The Funny Way Anthony Mackie Found Out He Was In Avengers: Age Of Ultron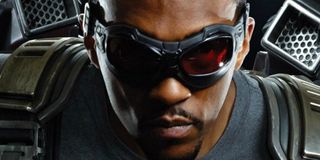 The recent revelation that Anthony Mackie's role as Sam Wilson, aka, Falcon would be present in this May's Avengers: Age of Ultron was certainly a welcome surprise that came late to the super-sequel's buildup. But the process in which Mackie found out that his character would, indeed, be taking flight in AOU was true to Marvel Studios' hilariously unconventional methods. Now, Mackie shares the rather interesting story of how Falcon's big-screen reprisal came about.
As reported by Comic Book Resources, Anthony Mackie was present this weekend for a panel at Seattle's Emerald City Comic-Con, where he would field a moderator's question about how far ahead was he aware of Marvel Studios' plans with Falcon, which will now manifest with a return in Age of Ultron. With the cat now firmly out of the bag, Mackie would answer with humorous candor, stating,
As Mackie recounts, the media -- and the rest of the world -- would catch wind of Mackie's Age of Ultron role by way of a credits block on the bottom of a new poster for the film. Well, it turns out that one of the last people to find out that Anthony Mackie would be reprising his role of Falcon in Age of Ultron was Anthony Mackie, himself! It's certainly a wild way to find out something that directly affects your career by way of the news cycle; especially considering the government-level secrecy that the actors must observe when it comes to divulging spoiler-related details.
Interestingly enough, just before the news of Mackie's AOU role was confirmed, numerous interviewers had been asking the actor about such a possibility, to which he expressed serious enthusiasm and hoped to have such an opportunity. Perhaps someone over at Marvel was listening, because Mackie would subsequently be brought on board to shoot his late-addition role just a few months before the film's release.
For Mackie, who initially reached out to Marvel campaigning for the role of Black Panther, his first appearance as Sam Wilson/Falcon in last year's Captain America: The Winter Soldier ended up being a scene-stealer in a film that was already full with a compelling storyline, a deep villain who was Cap's former friend, and just some of the most insane action in the entire Marvel cinematic mythos. Yet, Falcon's friendship with Steve Rogers/Captain America would find a firm place in the heart of the epic sequel, showing the time-displaced Cap's kinship with a contemporary soldier who, despite his non-super status, similarly finds himself in a dilemma surrounding his duty.
Now that friendship, which is well-documented in the annals of the comic books, will have a place amongst the inevitable insanity of Age of Ultron on May 1. Of course, it will also continue when Anthony Mackie returns for a prospectively more critical role as Falcon in Captain America: Civil War, which looks to uproot the established alliances of the Marvel Cinematic Universe on May 6, 2016.
Your Daily Blend of Entertainment News