George Lucas Is 'Constantly Talking' to J.J. Abrams About Star Wars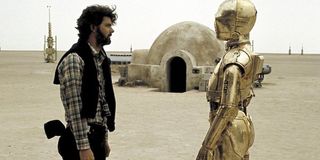 To some, it just isn't Star Wars without George Lucas' input. They worship at the altar of Episode IV: A New Hope. They don't mind the prequels, and appreciate the galaxy Lucas created decades ago. But then there are others who think Lucas has strangled the franchise they adore, and the news that he is "constantly talking" to director J.J. Abrams as he prepares Episode VII has them terrified.
The revelation comes from the above interview, which Lucas's son, Jett, gave to Flicks and the City. Let's skip right past the fact that he comes off as a smug punk (and that the reporter lulls him into a coma with her inane questions). We'll jump right to the answer at the 7-minute, 45-second mark, where Jett talks about his dad's ongoing involvement in the developing series. He talks about his dad being "torn" on the matter of handing the franchise over to new creators (not just to Abrams, but to other directors who'll be able to now play in this sandbox).
Watch more of the conversation in the full video:
Jett doesn't stop there. He teases to the interviewer that he knows the plot of the upcoming movie(s). He talks about the new stories being about having to be about a "new generation," and a "new group of heroes and villains," even though he admits that it would be "awesome" to have the original stars like Harrison Ford and Mark Hamill involved, somehow. "It would be great to see them don the costumes. I would nerd out," he says.
But is Lucas holding up the franchise's forward motion? Jett talks near the 10-minute mark about George "constantly" talking with Abrams, who was "hand-picked" for this assignment. But is Lucas second guessing all of his decisions? There has to be some reason why we don't know more about Episode VII at this point. Beyond the vagueness of 2015, we don't even have a concrete release date. We hear second-hand stories about auditions that reportedly involve lightsabers and wookies. But it's mostly hearsay. We're all waiting on concrete details. At the moment, we're still waiting.
Every time I write about Star Wars, I conclude with some variation of, "Well, we're bound to hear something soon." Because the movie is bound to enter pre-production relatively soon … if this sequel's ever actually going to happen. (For the record, I'm not entirely convinced there will ever be ANY Star Wars movies, but more on that some day soon.) Once we get anything of note, we'll report it. For now, it's just Lucas – still involved – and possibly gumming up the works.
Managing Director at CinemaBlend. ReelBlend cohost. A movie junkie who's Infatuated with comic-book films. Helped get the Snyder Cut released, then wrote a book about it.
Your Daily Blend of Entertainment News
Thank you for signing up to CinemaBlend. You will receive a verification email shortly.
There was a problem. Please refresh the page and try again.