Get Hard Trailer: Will Ferrell's New Movie Looks Politically Incorrect and Hilarious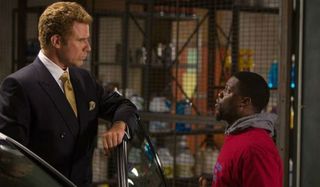 Will Ferrell and Kevin Hart will finally work together in a hysterical movie that works to satirize some of the serious social issues occurring today. Watch the duo in action in the first official trailer of Get Hard:
Living in the one percent doesn't exactly prepare you for life behind bars. So when millionaire hedge fund manager James, played by Will Ferrell gets nailed for fraud, the judge gives him 30 days to get all his affairs in order, before he has to do a stretch of time in San Quentin. Flustered and afraid, Ferrell's character decides he needs to prep for his time in the slammer. And to him, what better way to do so then ask for Darnell, played by Kevin Hart, to help him prepare.
In the trailer, Darnell blatantly asks James how he's so sure that Darnell has been in jail. James responds, "statistically, you definitely went to prison." And despite Hart's uncomfortable and upset facial expressions during this encounter, he decides to go along with the ridiculous idea, just to spite the wealthy businessman. Because, despite James' wealthy and privileged assumptions, Darnell knows nothing about life in jail. He is a hard-working small business owner who has never even received a parking ticket in his life, let alone been to prison. Even his wife, in the trailer, laughs at the idea of someone thinking that Darnell could have gone to jail, saying, "you're not exactly a thug, Darnell."
This film pokes fun at the politically incorrect situation, especially by playing up James' naivety. He will fall for anything that Darnell tells him to do. He even thanks Darnell when he surprises him at the front door spraying pepper spray into James' eyes. At one point, Darnell asks him to show him his "mad dog" face, to which James' responds in tears telling Darnell that he is "sad dogging" him. With a goofy yet terrified facial expression Will Ferrel asks:
The two men come together to complete the task of preparing Ferrell's character for a 10 year prison sentence, and they do whatever it takes to for Ferrell's character to "get hard". But, in the process they end up discovering how wrong they were about many things including their impressions of each other.
Etan Cohen, writer of hilarious films such as Idiocracy, Tropic Thunder and Men in Black 3, is taking his stab at directing with this first full length debut. Cohen's writing is always silly yet smart, so it will be very interesting to see where his own directing takes a film. Get Hard starring Alison Brie, Will Ferrell, and Kevin Hart is scheduled to hit theaters March 27, 2015.
Your Daily Blend of Entertainment News
Thank you for signing up to CinemaBlend. You will receive a verification email shortly.
There was a problem. Please refresh the page and try again.