Ghostbusters Critics Dissed By Sony Head In Epic Rant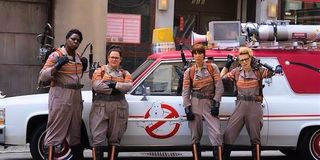 The idea of another Ghostbusters movie has been circulating almost constantly since Ghostbusters 2 in 1989, mostly to the chagrin of fans of the 1984 original. When it came out that Paul Feig was rebooting the property, with four women in the lead roles no less, the world just about lost its damn mind. But Sony Pictures head, Tom Rothman, unleashed an epic rant that may be the perfect response to all of the haters.
There's been an unending parade of vicious, vitriolic comments and backlash against the new Ghostbusters, but, talking to The Hollywood Reporter, Rothman basically told all the complainers to shut their damn mouths. He said:
You have to love the directness of Rothman's statement. People can spew all the negative comments and nonsense they want, and it just became clear how little of a shit he really gives what people think. They want to make a funny movie, and they've got some of the funniest people working in Hollywood on the job. Paul Feig is the mastermind behind the likes of Bridesmaids and The Heat, and the movie stars Melissa McCarthy and Kristen Wiig, two of the most hilarious people in movies, regardless of gender, and two Saturday Night Live cast members in Leslie Jones and Kate McKinnon.
Rothman also did something that many in the industry don't do, he directly addressed the lack of diversity in Hollywood movies. He says diversity has never been the industry's "strong suit," despite the fact that the audience for these movies is incredibly varied. In his estimation, studios need to recognize and address this or "die," and that is part of why movies like Ghostbusters are so important to the future of an already ailing business.
We don't know a ton about the plot of Ghostbusters, but what we do know sounds like what you expect. Apparently Erin Gilbert (Wiig) writes a book with Abby Yates (McCarthy) about how ghosts are real. No one pays it much mind, until Erin gets a job at Columbia University, where the tome surfaces and she essentially gets laughed out of the academic world. She then hooks up with her old pal and, along with new recruits Patty Tolan (Jones) and Jillian Holtzman (McKinnon), they get down to some serious paranormal investigation.
A number of actors from Ivan Reitman's 1984 film will make cameos, including surviving Ghostbusters Bill Murray, Dan Aykroyd, and Ernie Hudson, as well as Annie Potts and Sigourney Weaver. The new cast also features Chris Hemsworth, Cecily Strong, Michael Kenneth Williams, Andy Garcia, Elizabeth Perkins, and more. Ghostbusters opens everywhere next summer on July 15, 2016.
Your Daily Blend of Entertainment News