The Girl With The Dragon Tattoo 2 Probably Isn't Happening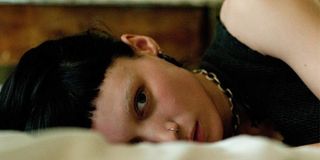 When The Girl with the Dragon Tattoo hit back in 2011, it seemed a foregone conclusion that David Fincher's adaptation of the Swedish novel and film trilogy would get right to work on a second chapter. That, however, has yet to happen due to a number of reasons; notably, its somewhat disappointing box-office performance. With a domestic return of $102 million on the studio's $90 million budget and even the addition of its $130 million foreign gross, the film yielded far less than its initial stellar expectations. In fact, in a recent interview, star Rooney Mara expressed serious doubts about her character Lisbeth Salander's return for a potential sequel.
In an interview with E! Online, Rooney Mara was asked about where her once inevitable franchise now stands. Her answer was blunt and less than optimistic. According to Mara,
Of course, Mara is referring to the fact that the sequel, The Girl Who Played with Fire, has been in an unfortunate cycle of false starts over the last 3 years, now leaving it mired in a seemingly irrecoverable standstill. It's an unfortunate fate for a film franchise that started quite auspiciously with the headline-making rumblings caused by the dark, disturbed, but sexy images of Mara's dramatic transformation into the investigator/hacker, Lisbeth Salander. With that said, her opinions seem to be her own, as she, much like anyone, has not likely heard any substantive updates on the project.
While the source material was already well-established with the late Sieg Larsson's trilogy of novels and the original Swedish films in which Noomi Rapace played the titular role, the "Americanized" film by director, David Fincher brought a stylized take on the series' brutal nature and a seemingly more vulnerable performance with Rooney Mara's take on the Lisbeth character. As a result, it was generally well received by critics. Yet, something about the film did not quite resonate enough with broader audiences.
However, for director David Fincher, the series seems to be a labor of love and all the indications that he's given over the past few years still point to his commitment to getting The Girl Who Played with Fire finally made. Late in 2013, screenwriter Andrew Kevin Walker was brought on board to rework the script. Thus far, nothing seems to indicate that these plans were ever changed and Walker's reworked script may very well be waiting to get made. In fact, while Fincher was sidetracked last year by his directorial success with Gone Girl, the long-belated sequel, Fire remains on his docket with supposed plans to make significant alterations to the traditional story. As Fincher remarked late last year,
It will be interesting to see if The Girl Who Played with Fire actually ends up surfacing. While Fincher's original Dragon Tattoo film may not have been a phenomenal performer at the box office, it certainly made its mark on the zeitgeist. It also laid the groundwork to continue the series with the possibility of original twists and turns that may even keep those acquainted with the source material on their toes. Stranger, more unlikely sequels have managed to get themselves made.
As of now, the potential sequel's existence will likely depend on whether or not a committed Fincher can pull off what would certainly be a more budget-conscious take on the Fire story, seeing as there is no chance Sony puts up another $90 million. While it's difficult to read into specifically what turned the broader movie-going public off the first film, perhaps adjustments would be made to not dwell as deeply into the dank, tortured bleakness on which the last film fixated. It may not be the purists' choice, but it might finally get the film made.
Your Daily Blend of Entertainment News