Giveaway: Win Horrible Bosses On Blu-Ray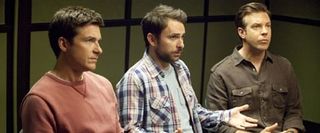 With all the hullaballoo over this summer's Hangover sequel and the out-of-nowhere girl-comedy hit Bridesmaids, Horrible Bosses did well at the box office but didn't get the buzz it otherwise might have. With a cast that includes Jason Bateman, Jason Sudeikis, Jennifer Aniston, Kevin Spacey, Colin Farrell, and It's Always Sunny in Philadelphia's Charlie Day, not to mention a concept most of us can relate to (wanting to snuff your asshole boss), Horrible Bosses is the sort of flick that's bound to blow up on DVD. To celebrate its release this week, we're giving away two Blu-ray combo packs of the flick.
Entering is easy. Just click on over to our Facebook page, "Like" it if you haven't already, and then leave a comment on this contest post. Tell us about your worst boss experience and we'll pick our two favorites as winners. The contest ends at 12 am EST on Friday, October 14th. If you enter, please make sure we can contact you via Facebook. If you have it set to where we can't message you, your prize will go to somebody else.
The winner will be notified via Facebook direct message and asked to provide their mailing addresses (no P.O. boxes please). Prize packs will be mailed directly to the winner. No purchase necessary. Failure to comply with the rules will result in disqualification and subsequent mockery. Good luck!
Your Daily Blend of Entertainment News
Your Daily Blend of Entertainment News
Thank you for signing up to CinemaBlend. You will receive a verification email shortly.
There was a problem. Please refresh the page and try again.