Godzilla 2 Is Bringing Back One Of Its Key Players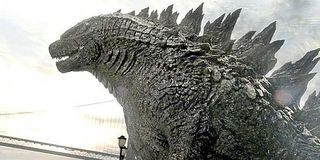 This summer, the mighty Godzilla stormed back into movie theaters with a vengeance. In no time, Warner Bros. and Legendary Pictures were talking sequel, and now the ball on Godzilla 2 can get rolling with news of a scribe being hired.
Deadline reports Legendary Pictures has sealed a deal, signing Max Borenstein to write the Godzilla sequel. Borenstein made his name by penning the 2014 Godzilla, which took the iconic movie monster on a world-trekking (or world-wrecking) adventure to battle two massive, merciless MUTOs.
There's no word on how much money Max Borenstein secured in this deal, but we suspect he had a strong position from which to negotiate. In the wake of 1998's Roland Emmerich effort Godzilla, the franchise was thought to have been spoiled Stateside. But Warner Bros. sunk $160 million into its reboot, and untold millions on a splashy ad campaign. They needed this monster movie to be a monster hit. Borenstein's script combined with the deft and thoughtful direction of Gareth Edwards have been credited as a major aspect of this gamble paying off. Godzilla pulled in $200 million domestic and $324 million overseas, for a grand total of $524 million worldwide. That's essentially a mandate for a sequel and by the time Comic Con came around, Legendary was more than happy to promise one.
At Comic Con, Gareth Edwards assured Godzilla fans that his sweet gig helming an unnamed Star Wars project would not keep him from returning to the director's chair for Godzilla 2. And it seems Legendary is not looking to mess with a team that works, bringing Borenstein back into the fold. Godzilla 2 won't be opening for another four years, so Borenstein has some time to figure out where to take the next chapter of the titular beast. But let's recap what we know so far.
Borenstein's take on Godzilla was one that treated the gigantic lizard like a protector of balance. He might not care specifically if humans get thrashed in his beast battles, but he does seem concerned about his fellow monsters making the modern world their literal stomping ground. Godzilla 2 will reportedly involve "Project Monarch," which will loop some classic Godzilla foes into the new wing of this franchise. Among them, you might expect to see Rodan, Mothra (who had an Easter Egg in the 2014 film), and the three-headed dragon Ghidorah.
Currently unclear is how many (if any) of the human characters from Godzilla will return for its sequel. Of course those who have seen the film know there's no hope that Bryan Cranston and Juliette Binoche will return. And with Elizabeth Olsen and Aaron Taylor-Johnson getting caught up in the world of the Avengers, their availability might prove a challenge. Of course, the latter two's characters weren't very popular even among the film's fans, so it might be wise for Borenstein to shy away from further use of the Brody clan.
It'll also be interesting to see how the role of Godzilla evolves in the sequel. As Honest Trailers snarked, he was the title character of the film but made only brief appearances. But considering the Brody family name, this seems an obvious influence drawn from Jaws, where the monster fascinated and frightened audiences effectively without dominating screentime. Still, if Legendary does plan to amp up the amount of old-school Godzilla monsters in the sequel, we suspect the title character will score more screentime this go 'round.
Godzilla 2 will hit theaters on June 4th, 2018.
Your Daily Blend of Entertainment News
Staff writer at CinemaBlend.