Godzilla Vs. King Kong: When They'll Fight And What We Know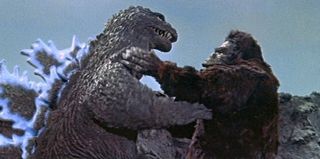 There have been rumblings that two of the most legendary movie monsters of all time, Godzilla and King Kong, are going to throw down on the big screen sometime in the next few years. That's awesome, but it was vague. Well now that match up has been confirmed, we know when it'll go down, and there's even news that Legendary and Warner Bros. are carving out their very own shared cinematic monster movie universe. Here are the release dates:
Kong: Skull Island opens March 10, 2017; Godzilla 2 hits June 8, 2018; and Godzilla Vs. Kong will stomp through theaters in 2020.
It looks like Legendary's plan is to build on the success of the 2014 Godzilla reboot and the upcoming Kong: Skull Island, and create a new movie world populated by monsters new and old.
Right now they have a trio of movies in the pipeline. Starting in 2017, Skull Island will reintroduce movie audiences to the greatest of the great apes, King Kong; Godzilla 2, still directed by Gareth Edwards, who will be free of his Star Wars: Rogue One duties by that point, will follow in 2018; and in 2020 the two behemoths will collide in one epic clash for the ages in Godzilla Vs. Kong.
This sounds like a damn good time to us. Everyone else has their own cinematic universe in some stage of development—Marvel, DC, Star Wars, Ghostbusters, Transformers, even Assassin's Creed—so why not Legendary, WB, Godzilla, and Kong? They certainly have the material to pull of something rather epic.
In addition to the two big hitters (who met on screen once in 1962's King Kong Vs. Godzilla), Legendary also acquired the rights to side characters from Godzilla's world, including the likes of Mothra (for whom there was an Easter egg in the last movie), Rodan, King Ghidorah, and more. So while this franchise will revolve around the two biggest names, there is ample opportunity for them to branch out, bring in new creatures, and generally expand on the monster mayhem.
For now, Kong: Skull Island is scheduled to begin production on October 19. They've put together fantastic cast headlined by Tom Hiddleston and Brie Larson, but that also includes Samuel L. Jackson, John Goodman, Toby Kebbell, Corey Hawkins, and many more. Directed by Jordan Vogt-Roberts (Kings of Summer), the script comes from Max Borenstein, John Gatins, Dan Gilroy, and Derek Connolly. Borenstein will also handle the script for Godzilla 2, with Gareth Edwards at the helm once more.
It's going to be interesting to see how these two worlds cross over. The size of the two beasts could be an issue, as some have pointed out, and so could the era. From what we know of Skull Island, it is set in the 1970s and follows a team of explorers as they venture into the mysterious, primordial land of the title. Godzilla takes place in the present day, so they may have to get creative with just how the King of the Monsters comes to throw down with the legendary giant ape. We don't know how they're going to do it, but we can't wait to find out.
Your Daily Blend of Entertainment News