Assassin's Creed Movie Tweets First Image From The Set, See It Now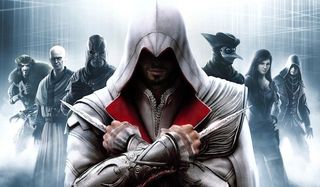 There's been more hype around the upcoming Assassin's Creed movie that just about any video game adaptation that's come before, and for good reason. It has an interesting director at the helm, a fantastic cast, and the potential to be pretty damn awesome if it all comes together. Production is just getting rolling, and now we've got our first look at the set.
This first look at the set comes courtesy of Azaïzia Aymar, the head of content for Assassin's Creed at Ubisoft, the video game publisher behind the hugely popular series of games. While it doesn't really give away anything, there is a nice nod to the saga that gamers will appreciate, and if nothing else, Aymar's enthusiasm is readily apparent in this tweet.
There's no look at star Michael Fassbender or any of the other actors who will appear, but this picture does show off the logo of Abstergo Industries, which those of you who play Assassin's Creed will know as the company controlled by the Templars in the world of the game. This photo is apparently from inside of the set of their corporate headquarters.
Aymar also took over the official Twitter account for Assassin's Creed over the weekend and revealed a few new tidbits about the movie. He said that the movie features a new story, and that Michael Fassbender plays two characters, one in the modern day, and one who is part of the past. In the present he will play a character named Callum, while the historical character is named Aguilar, a distant relative of his other on screen persona.
He also noted that they're taking a Star Wars style approach to building this world—you knew they want this to be a franchise, of course. It sounds like the movie is going to be part of a realm that includes the games, Assassin's Creed comics, and whatever else they can dream up, all in service of creating a similar sprawling shared universe.
Directed by Justin Kurzel, who helmed the upcoming Macbeth, and costarring Marion Cotillard, Brendan Gleeson, Michael Kenneth Williams, and Jeremy Irons, Assassin's Creed hits theaters on December 21, 2016. And if it's popular, prepare for the brand to expand even further.
Your Daily Blend of Entertainment News
Thank you for signing up to CinemaBlend. You will receive a verification email shortly.
There was a problem. Please refresh the page and try again.