Godzilla Remake Adds David Strathairn In Military Role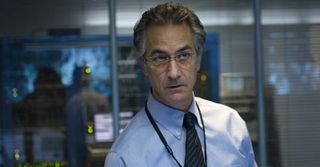 David Strathairn, an Oscar nominee for Good Night and Good Luck and a general source of gravitas in just about anything he does, is getting ready to face off against a giant lizard. The actor looks to be the latest to join the cast of Godzilla, the reboot currently in the works with Monsters director Gareth Edwards attached to direct.
As reported by Variety, there's not much information out there about Strathairn's role other than that he'll play "a military figure." (Given that Strathairn is 63 years old, we can assume he's a pretty high-ranking one). The cast already includes youngsters like Aaron Taylor-Johnson and Elizabeth Olsen, but Strathairn may find himself in a terrifying face-off with Bryan Cranston, who seems to hold all the gravitas remaining in Hollywood that Strathairn can't already claim. There was also recent talk about Juliette Binoche joining the cast, although since Variety doesn't mention her in their write-up, that deal may have fallen through.
Based on a a very early look we got at Comic Con last summer, this version of Godzilla is looking grittier and more intense than ever, and definitely more serious than the 1998 Roland Emmerich attempt. Other than a rumor about two monsters, though, we know virtually nothing else about the plot. Personally, I'm kind of happy to keep it that way-- a cast this good and a director as promising as Edwards surely have something good up their sleeves. But if you want to speculate anyway, feel free to do so in the comments.
Staff Writer at CinemaBlend
Your Daily Blend of Entertainment News
Thank you for signing up to CinemaBlend. You will receive a verification email shortly.
There was a problem. Please refresh the page and try again.