Godzilla Remake Now Eyeing Aaron Taylor Johnson For Lead Role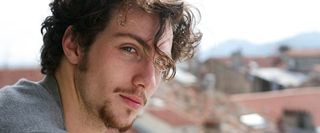 For a while there it was Guardians of the Galaxy that seemed to be summoning every single white, young, brown-haired actor to potentially play the male lead. Now it's the Godzilla reboot-- and both of them have apparently been turned down by Joseph Gordon-Levitt. Today it's Aaron Taylor Johnson's turn to be thrown into the rumor mill, with word coming that he's now the top pick from studio Legendary Pictures.
That doesn't mean he's take the job though-- according to Deadline Johnson is waiting on a final draft of the script, which is currently being reworked by former Walking Dead show runner Frank Darabont. There's been a ton of information out there about Godzilla in the last few days, and not all of it good; two of the producers have left the project, and word leaked out yesterday that the story is more focused on the lead human character, not the monster. Of course, that could easily change after Darabont's rewrite, and if Darabont's work will be significant enough to make Johnson wait for it to be final, it's probably going to change a lot.
Since breaking out as the star of Matthew Vaughn's Kick-Ass Johnson has seemed an inevitable star in the making, but he hasn't quite gotten there, appearing in promising but under seen films like Savages and Anna Karenina. Can a role in a big-budget spectacle like Godzilla finally get him there? If I were him I'd probably take it-- but given how picky he's proven to be in his choices of roles, I wouldn't count on anything.
Staff Writer at CinemaBlend
Your Daily Blend of Entertainment News
Thank you for signing up to CinemaBlend. You will receive a verification email shortly.
There was a problem. Please refresh the page and try again.