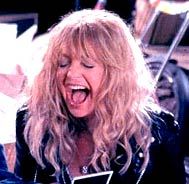 After a lifetime spent starring in movies, Goldie Hawn has decided it's time to move behind the camera. Variety says she'll make her directorial debut by bossing around her common-law husband Kurt Russell in the movie Ashes to Ashes.
Goldie also wrote co-wrote the script, and plans to co-star with Kurt. The movie is about a woman who travels through India to bury her husband's ashes in Kathmandu, but loses the urn or the ziplock baggie, or whatever she had to put him in to get the ashes past customs, along the way. Apparently it's some sort of rom-com. Hopefully Kurt doesn't play the pile of ashes, because even though they're a real life couple, it's hard to have chemistry with dust.
It can't possibly be any worse than Goldie Hawn's last movie, 2002's The Banger Sisters. Or the one before that, Town & Country. Or the one before that, The Out-of-Towners. Actually, when you look at that filmography, it's no wonder Hawn hasn't been in a movie since 2002. Why bother if they're all going to turn out like that. Let's hope she doesn't kill Kurt Russell's, till now, awesome late-life career.
Your Daily Blend of Entertainment News