Guardian Of The Galaxy 2's Major Difference, According To James Gunn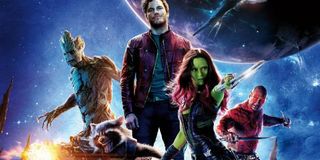 Guardians of the Galaxy director James Gunn has been promising new and exciting changes ahead for the franchise. As progress is made on the sequel to his Marvel Cinematic hit, the director loves to tease fans with news on what's to come. And this time around, the director emphasized just how different Guardians of the Galaxy 2 will be from its predecessor, calling it an overall more emotional movie.
James Gunn has always been closer to the side of indie movies than big blockbusters. With smaller budget films like Slither and Super at the core of his resume, Guardians of the Galaxy was an entirely new territory for the filmmaker. That's why, when he claims that Guardians 2 is going to be much more emotional, we can trust him. He explained what 'more emotional' meant while quizzed by the press at the Saturn Awards on Thursday (via Collider):
And if you've seen any other James Gunn films, you know he's a master with those smaller films. Give him the material to make it bigger, and well, you get something like Guardians which was able to produce thoughtful characters with interesting stories, along with the big picture action a Marvel movie requires.
We went through a bunch of different feels in the first film of the franchise, from that opening number with child-sized Chris Pratt, all the way to the emotional finale as Groot sacrificed himself for the team. There was certainly no lack of emotion in the first film, but it did also need to serve the purpose of setting up a story, and served as more of an introduction to this ragtag team we would be joining on an adventure. Now that the team is set, the sequel can focus more on deeper seeded issues in the characters, particularly, Chris Pratt's Peter Quill, who will be exploring his paternal roots.
We've been told we are in for an emotional roller coaster by Peter Quill himself just a few weeks ago when Chris Pratt admitted that James Gunn's idea for the sequel actually brought tears to the actor's eyes. Of course the mega movie star wasn't able to divulge any further details, but if simply an idea can bring about tears, we are in for quite the ride.
The first draft of the sequel's screenplay was completed just three weeks ago, so we still have plenty time to gauge just what this movie is going to be all about. If we've learned anything from James Gunn, it is that he loves to tease his fans, and give them sneak peaks into his world of filmmaking, so plenty to look forward to on that front. As for the final product, Guardians of the Galaxy 2 is scheduled to hit theaters on May 5, 2017.
Your Daily Blend of Entertainment News
Your Daily Blend of Entertainment News
Thank you for signing up to CinemaBlend. You will receive a verification email shortly.
There was a problem. Please refresh the page and try again.