Guardians Of The Galaxy Will Take Over Jimmy Kimmel Live On Monday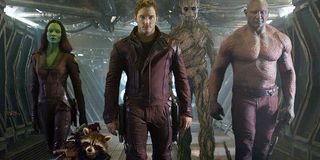 San Diego Comic Con has been thought to be the place to break major news in everything from comics to television to major movies. However Marvel has been turning the tables all week doling out big news all over the talk show circuit. After storming into The View and The Colbert Report, Marvel has announced plans for the Guardians of the Galaxy to take over ABC's Jimmy Kimmel Live on Monday July 21st.
In a press release, Marvel promised Guardians of the Galaxy stars Chris Pratt, Zoe Saldana, Dave Bautista, Vin Diesel and Bradley Cooper will appear on Jimmy Kimmel Live on the same night as the superhero adventure's worldwide premiere. Along with this enticing ensemble, the Monday episode will also boast exclusive bonus content.
Of course, comedian turned talk show host Jimmy Kimmel has become a standout on late night television thanks to bits like Mean Tweets--where celebrities read actual mean tweets about themselves--Unnecessary Censorship, and Youtube Challenges. For this Guardians of the Galaxy-centered episode, Kimmel will challenge the Marvel knowledge of Pratt, Saldana, Bautista, Diesel and Cooper in an unconventional trivia contest that will pit the action heroes (and heroine) against five-year-old superhero expert Mia Grace.
Little miss Grace is actually a returning guest to Jimmy Kimmel Live. You can see her first appearance, when she was just four years old, below. In it, she faced off against Iron Man, Captain America and Spider-Man…well, their Hollywood Boulevard dopplegangers.
So in part one, she schooled Iron Man. Watch Mia Grace's showdown with Captain America and Spider-Man in part two:
I'm not going to lie, Mia Grace knows more about Marvel than I do. How about you?
Her last trivia contest won her a Captain America shield as well as a trip to Disney Land. I suspect this time, she'll also get to be a guest at the Guardians of the Galaxy premiere. But maybe what Mia would like best is to meet her favorite hero, Marvel's Scarlett Witch (of Avengers: Age of Ultron).
To see the video that first earned Mia her superhero expert cred, click to the next page.
Staff writer at CinemaBlend.
Your Daily Blend of Entertainment News
Thank you for signing up to CinemaBlend. You will receive a verification email shortly.
There was a problem. Please refresh the page and try again.