Guy Ritchie Takes Over The Man From U.N.C.L.E.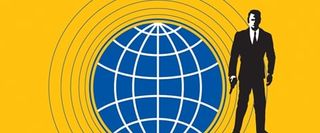 It's been a tumultuous few months for the flailing big-screen adaptation of sixties spy series The Man From U.N.C.L.E.. Back at the beginning of August things looked great, with Steven Soderbergh attached to direct, George Clooney rumored for the lead role, and a script by Scott Z. Burns (Contagion). Then it all started to fall apart. First Clooney dropped out. For a while, it looked like Bradley Cooper would replace him, but then that fell through as well. Finally, last month, Soderbergh himself bailed on the project, leaving The Man From U.N.C.L.E. up the creek without a paddle and weighed down by a cumbersome acronym.
Now memorably-named super-spy Napoleon Solo has been rescued from oblivion by the guy who helped make Sherlock Holmes cool again. Scratch that -- by the Guy who helped make Sherlock Holmes cool again. Guy Ritchie, to be specific, who Deadline says has swooped in to take over the floundering project. Ritchie is forming a new production company with his Sherlock Holmes: A Game of Shadows producer Lionel Wigram, and the pair plan to make U.N.C.L.E. the company's first project, with Ritchie in the director's chair.
If you weren't watching TV in the sixties or aren't boned up on your Man from U.N.C.L.E. basics, the show followed the adventures of American spy Napoleon Solo (originally played by Robert Vaughn) and his Russian partner, Illya Kuryakin (David McCallum). They traveled the globe doing espionage-type things on behalf of the international law-enforcement agency known as U.N.C.L.E. (In case you were wondering, U.N.C.L.E. stands for "United Network Command for Law and Enforcement.") If that isn't clunky enough, their main enemies in the series were the sinister organization called THRUSH (Technological Hierarchy for the Removal of Undesirables and the Subjugation of Humanity, and no, I'm not kidding.)
Your Daily Blend of Entertainment News
Thank you for signing up to CinemaBlend. You will receive a verification email shortly.
There was a problem. Please refresh the page and try again.