Guy Who Crashed Adele's Grammy Speech Shows Up At Oscars In Bjork's Swan Dress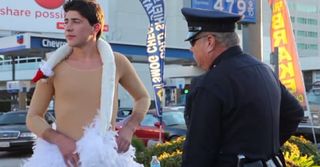 In 1974 a man named Robert Opel somehow managed to sneak backstage at the Oscars, take off his clothes, and run naked across the stage as David Niven stop at the microphone. The streaker moment became instantly legendary, and nothing even remotely that spontaneous has happened at the awards since (no, Jennifer Lawrence tripping on her way to the stage doesn't count).
In fact, the awards have beefed up security specifically to prevent anything remotely similar from happening-- which is why we were denied the opportunity to see a Ukrainian man wearing a handmade replica of Bjork's swan dress take the stage at the Oscars on Sunday. The man, TV personality Vitalii Sediuk, had successfully crashed the stage at the Grammys a few weeks ago, and according to The Hollywood Reporter the security staff at the Oscars had a tip that he'd try the same thing again. LAPD officers were prepared with photos of Sediuk and a description of what he's been up to lately-- which also includes attempting to kiss Will Smith on a red carpet. Sediuk claims he showed up to protest being revoked credentials for the awards-- which, how can you blame them?-- and made his protest in the most colorful way possible. Take a look at the video below:
This publicity is absolutely exactly what he wanted, even as he awaits a hearing on the trespassing charges resulting from his Grammys stunt. But as much as I think it's obnoxious to try and draw all this attention to yourself for being ridiculous-- don't you kind of wish something this weird would slip through to the actual Oscar ceremony once in a while?
Your Daily Blend of Entertainment News
Staff Writer at CinemaBlend