Han Solo Will Be Played By This Woman In Jason Reitman's Empire Strikes Back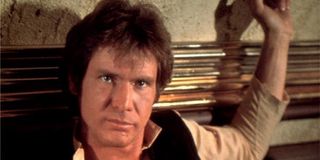 Jason Reitman will be bringing Star Wars: The Empire Strikes Back back to life in a live-reading that he plans to put on tonight. Yesterday Reitman released the names of a majority of his cast, but there were two casting announcements noticeably missing: the roles of Han Solo and Leia Organa. We finally, finally have the names of the two actors who will be reading for Han and Leia. While the actress reading for Leia--Jessica Alba--might not surprise you, the casting for Han certainly might. Juno star Ellen Page will be Leia's stuck-up, half-witted, scruffy-looking Nerfherder, Han Solo.
I'll admit, I had just assumed Reitman would cast a guy for the role of Han since Han was originally portrayed by a guy, Harrison Ford, in the film version of The Empire Strikes Back. However, after Entertainment Weekly initially broke the news of Page's casting, and I sat here, picturing Ellen Page as Han Solo, I've got to say that Reitman's casting is kind of perfect. Reitman's entire motive behind these live readings of classic and beloved films is to shake up those images and preconceived notions we had about the film and the characters. Reitman has already expressed how he hopes Aaron Paul can bring a new energy to the role of Luke Skywalker, and he had this to say in his choice to cast Ellen Page as Han Solo:
I couldn't agree more with Reitman's thoughts. Han is almost the foundation of the Star Wars films for the audience, taking a bit of time (and plenty of sarcasm) before fully buying into the world of the Force and Jedi Knights, and he helps the audience "buy into" this world as well. Casting Page as Han is genius, because while Page is absolutely hilarious, she's able to easily walk that line between creating funny and ironic characters while also making them incredibly believable and relatable. She's the perfect casting choice for Han Solo that I would have never thought of on my own.
Beyond Page's spot-on Han Solo attitude, Reitman also believes that Page will have no problem creating chemistry between Jessica Alba to portray believable romance between Page's Han and Alba's Leia.
Apart from Page, Alba, and Paul, other notable cast members include J.K. Simmons as Darth Vader, Stephen Merchant as C-3PO, Dennis Haysbert as Lando Calrissian, and Kevin Pollak as Yoda.
If you don't live in the Los Angeles area, you'll just have to dream about a world where Ellen Page is Han Solo and Aaron Paul is Luke Skywalker. Each of Reitman's live reading performances have been one night only, and have not been recorded, reproduced, or shared in any fashion. Reitman's live reading performances are meant to be a live, one-night only experience. If you are lucky enough to live in the Los Angeles area, you can see the show at the Ace Hotel Theatre. While tickets are currently sold out for tonight's show, they are offering a standby list.
Your Daily Blend of Entertainment News
Thank you for signing up to CinemaBlend. You will receive a verification email shortly.
There was a problem. Please refresh the page and try again.