Is Han Solo In Star Wars: Rogue One? Here's What We Know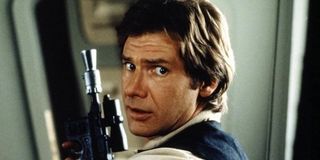 Earlier today, we got the shortlist of actors who could potentially play a young version of Han Solo in the upcoming Star Wars Story movie that follows him in his early days. Though production is still a ways off, there may be a reason we're hearing about this casting now: young Han Solo could potentially show up later this year in the next adventure in that far, far away galaxy, Rogue One: A Star Wars Story.
We learned that a slew of talented young actors like Miles Teller, Ansel Elgort, Dave Franco, Jack Reynor, Scott Eastwood, Logan Lerman, Emory Cohen, and Blake Jenner are the ones up for Han Solo, but according to Variety, we may see this new version of the scruffy looking Nerf Herder sooner than we thought. Though the Untitled Han Solo Star Wars Anthology Film isn't slated to even start shooting until next January, the trade's sources say another Star Wars movie, one that is currently filming, plays into this decision. Though it is just an unconfirmed rumor—take it with a grain of salt and make of it what you will—the implication is that a young Han Solo could show up in Rogue One.
This move could potentially work. Rogue One, as we know, is set in the time between Episode III: Revenge of the Sith and Episode IV, and revolves around the theft of the plans for the first Death Star that Luke Skywalker and company later use to blow the bastard out of the sky. Han Solo was very much alive and kicking around this time, smuggling his ass off, so perhaps he, as a notorious outlaw, is approached to take part in the heist or something like that. Maybe they try to hire him as the getaway driver.
The Gareth Edwards-directed Rogue One still reportedly has a month of shooting left. As this is probably going to be a very small cameo, if Lucasfilm settles on one of these actors—or, let's face it, someone completely off our radar at the moment—they could easily squeeze such a scene into the schedule. Variety also points out that such a stunt mirrors what fellow Disney-owned studio Marvel is doing with their new Spider-Man, Tom Holland, who will show up in Captain America: Civil War later this year before getting his own solo movie.
So it's possible, but does that mean it's a good idea? Sure, Rogue One is set before A New Hope, but given what we know, it's not that far before. The idea of seeing Han Solo from this era, where we think of him as Harrison Ford, played by another actor, just seems like it will be jarring and hard for fans to accept. Then again, that's probably the idea, to introduce the new version and give audiences time to acclimate to this different Han Solo before his stand alone movie comes out. Still, if this does go down, however it happens is going to be very, very strange to watch. Unless we're talking a really young Han Solo, this is going to be a hard one for me to swallow.
Rogue One: A Star Wars Story, with or without Han Solo, opens everywhere December 16, 2016, while the Phil Lord and Chris Miller-directed Untitled Han Solo Star Wars Anthology Film opens on May 25, 2018.
Your Daily Blend of Entertainment News