The Hangover Part III Brings Back Mike Epps As Black Doug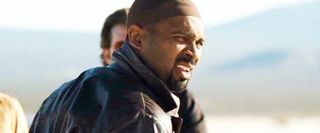 The strategy behind The Hangover Part II seemed to be to give you everything you liked about the first movie, only more of it and more of it, until you realized you really didn't like it all that much to begin with. And they're keeping it up with the third installment so far, bringing back the main trio of Ed Helms, Bradley Cooper and Zach Galifianakis, offering an expanded role for Ken Jeong as Mr. Chow, and now planning a return for another character we haven't seen since the first movie. According to Variety, Mike Epps will return in The Hangover 3 as Black Doug, the guy whom Mr. Chow hands over to them instead of their actual missing friend Doug (Justin Bartha).
We don't know what Epps's role will be this time around, but there's no word of it being expanded like Jeong's-- though, let's be honest, would you rather see more of him than Mr. Chow? Epps was pretty funny in his limited role in the first film, and as a much less over-the-top character than Chow, it would be entertaining to see how he fits in with the group dynamics of the main three. Then again ,that's making the assumption that The Hangover 3 will have anything enjoyable to offer, given how much the second film squandered all the good will of the first.
The Hangover 3 is set for release May 24 of next year. Do you think I'm being too skeptical about this sequel? Please hop into the comments and let me know why I should have hope.
Your Daily Blend of Entertainment News
Staff Writer at CinemaBlend
Your Daily Blend of Entertainment News
Thank you for signing up to CinemaBlend. You will receive a verification email shortly.
There was a problem. Please refresh the page and try again.