Harry Potter Director David Yates Signs On For Your Voice In My Head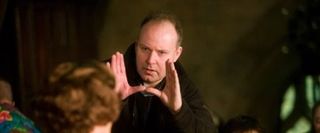 Harry Potter director David Yates is a busy little bee these days. When he's not enraging legions of fans by saying he plans to direct a big-screen Doctor Who movie that will ignore the show's decades of continuity, his name is being floated as a potential director for the Alan Turing biopic, The Imitation Game. While that Who movie may or may not be a figment of Yates' imagination, this new project is definitely real: Variety reports that Yates will direct Your Voice in My Head, based on the memoir by Emma Forrest.
Forrest is an English writer and journalist based out of Los Angeles who has worked on projects such as an upcoming film for Arrested Development creator Mitch Hurwitz called The Boss of It All. The memoir, which came out last May, revolves around a turbulent period in Forrest's life after a relationship ended and her psychiatrist died. The story takes place across multiple locations, including New York, London, and Istanbul. Forrest adapted the book into a script herself.
Yates told Variety that part of the appeal of taking on Your Voice in My Head was its scale compared to the blockbuster Potter films. "It's a small film, hard hitting and with elements of magic realism," Yates said. "Compared to Potter it would cost tuppency ha'penny, and for that reason it would be incredibly liberating to make."
The film is slated to begin filming next summer, so there's no telling how that will affect any of Yates' other potential projects.
Your Daily Blend of Entertainment News
Your Daily Blend of Entertainment News
Thank you for signing up to CinemaBlend. You will receive a verification email shortly.
There was a problem. Please refresh the page and try again.