Harry Potter Fans Choosing 2D Over 3D For Deathly Hallows 2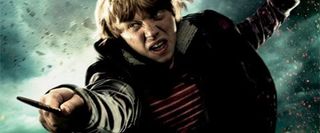 We've been predicting it would happen for months now, and at last it seems like audience interest in 3D really is waning. Green Lantern was in 3D this weekend but that didn't seem to help its box office totals any. Actually there's some reason to believe it may have hurt it. It can't be a coincidence that the two biggest movies of 2011 so far, Fast Five and The Hangover Part II, were also two of the only movies to be delivered into theaters entirely in 2D. So here's a little more kindling to throw on that 3D is dying fire: Now Harry Potter fans aren't buying it.
All of the previous Harry Potter movies have been in 2D, but Warner Bros. has post-converted the final chapter of the saga, Harry Potter and the Deathly Hallows Part 2 into the 3D format. Ticket pre-orders for the last ever Harry Potter movie, which opens on July 15th, started last week and as you'd expect fans have been quick to reserve their place in an opening night seat. Except, well, they aren't buying tickets in 3D. BTIG reports that 2D ticket sales for Deathly Hallows 2 are outpacing 3D tickets.
The same, by the way, was true of Green Lantern this weekend. It didn't do particularly well at the box office, but a majority of the business it did do was in 2D. This becomes particularly significant when you consider the saturation of 3D screenings. Theater owners eager to jack up ticket prices have jumped on the 3D bandwagon and have filled their theaters with 3D showings. We've heard numerous reports from readers of this site who are no longer able to find 2D showings of many movies in their area. Even in places where 2D showings still exist, 3D movies now occupy the biggest movie theaters with the most seats and highest quality screens. Yet Harry Potter fans are choosing smaller, inferior theaters to see the end of their Harry Potter adventure the way they began it: Without gimmicks and without being forced to wear crummy glasses.
Your Daily Blend of Entertainment News