Have John Travolta And Chuck Norris Karate-Kicked Their Way Into The Expendables 2 Cast?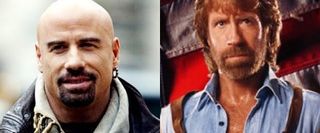 The Expendables 2 is set to start shooting in Bulgaria in September, and though Con Air director Simon West is set to take over the helming duties from Sylvester Stallone (who, don't worry, will still return to star), we're not sure what other giant action names will be added to the cast this time around. If you believe the CEO of NU Boyana studios David Varod, though, he's got all the juicy details as the production prepares to take over his facilities in Sofia, Bulgaria. And just like with the first film, there's a laundry list of huge names apparently ready to rip some throats and take the bullets in the name of middle-aged badassery.
Here's what Varod told Novinite, the "Sofia News Agency," about the plans for the new movie:
Of course, a lot of those names are familiar from the first film, even Schwarzenegger, whose role the first time was essentially a walk-on cameo but could easily play a bigger part this time now that he's not running the world's eighth largest economy. Van Damme was rumored back in January to be joining the squad after turning down a role in the first film, and Norris is an obvious choice to stand in this lineup of beefy 80s action stars looking for one last bit of action. The real surprise here is Travolta, no stranger to action movies exactly, but not an icon of the genre like the rest of these guys, and given his upcoming role as John Gotti in Gotti: In The Shadow Of My Father, he seems to be trying to re-up his credentials as a dramatic talent. Then again, he starred for West in the director's second movie, The General's Daughter, so maybe he's just doing a favor for an old friend while also getting the chance to watch Chuck Norris karate-kick up close and personal. I can't say I wouldn't do the same thing.
Now that Varod has spilled the beans, we may be able to get confirmation from Norris and Travolta that they are, in fact, getting on board this shoot 'em up sequel. Much as I hated the original Expendables, I admit I'm curious to dip my toe in the testosterone pool once again and see how this one turns out.
Your Daily Blend of Entertainment News
Staff Writer at CinemaBlend