Hayden Christensen Is Superman - Updated!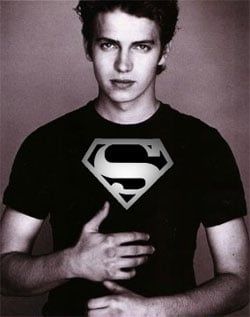 We've already heard that the Justice League movie is in all likelihood still happening, and as we predicted way back in November they're probably abandoning the idea of shooting in Australia in favor of moving production to Canada. In fact, we're starting to get reports from Canadian readers claiming to have spotted various members of the cast and crew in British Columbia, hanging out while director George Miller scouts locations.
One such report rolled into my inbox tonight from a CB reader named Candace, who says she managed to corner Adam Brody in a BC bar and get him talking about JLA. What he told her is kind of a shocker. Here's her story: "I asked Brody to sign a napkin, and asked what he/they were doing here. They're in BC to check out locations for their new superhero movie Justice League is Mortal. Brody pointed at Miller and said "George is our director". He said he's playing The Flash, Common is playing Green Arrow (or Lantern, one or the other), Armie Hammer (sounded like Arm and Hammer) is Batman, someone from "mad max" is Martian Man-hunter (didn't catch the name) and Hayden Christensen is Superman. Brody also nodded to the woman to his right and said "she (he said her name but i didnt catch it) is in it too". Oh, and they had lots of drinks."
Just in case you missed it, you might want to go back and read the part where Adam Brody told her Hayden Christensen is playing Superman. Yeah that Hayden Christensen. Anakin Skywalker Hayden Christensen. Over the past few months a lot of different names have been rumored for the Superman part, but Hayden's has not been one of them... until now. If this turns out to be true, it's a pretty big shocker.
In a way though, it make sense to get someone like him on board. One of the big criticisms of this project all along has been the complete lack of star power. Hayden, having starred in two of the biggest box office successes of all time, definitely brings a little of that.
For now though, consider this just a rumor. A rumor which, for reasons I can't explain, I'm finding myself inclined to believe. If they really are up there scouting out locations, then don't be surprised of Warner Brothers finally gives us that long promised official cast announcement soon, and clears the whole thing up. It would be nice if we could all just stop guessing. In the meantime, Monday morning I'll start nosing around to see if I can get an official confirmation not only on Hayden, but whether the movie is actually being called Justice League is Mortal. Weird title.
UPDATE! We've been able to get in touch with Hayden Christensen's representation who have affirmed to us that he is in fact not playing Superman in JLA. Details here.
Your Daily Blend of Entertainment News