Hear Me Out: It's Time Jennifer Lawrence Got Ugly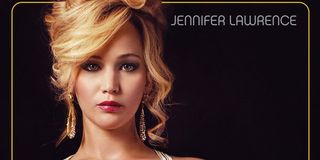 Unquestionably, Jennifer Lawrence is at the top of her game. The 23-year-old actress has already been twice nominated for an Academy Award for Best Actress. She won last year for Silver Linings Playbook, and proved the perfect counterpoint to prim and poised Anne Hathaway, whose seeming perfection has earned her a cruel backlash. But not our JLaw! She flips the bird in her Oscar gown. She talks about food on the red carpet, and geeks out on camera when Jack Nicholson comes over to say hi. As Katey so astutely put it last Oscar season, she's the star we wish we would be, untouchable yet approachable.
And then of course there's that little YA franchise called The Hunger Games. As Katniss Everdeen, Lawrence has set the world on fire. The franchise has drawn critical praise and intense fan fervor, leading to $691 million worldwide for the first film, and $729 million so far for Catching Fire, which is only in its fourth week! Much of this success has been put on Lawrence's incredible screen presence and stoic yet layered portrayal of the series' fiery young heroine. So, she's a critical darling. She's an internet obsession. She's a box office force of nature. And with another raved-about turn in American Hustle, she could be well on her way to returning to the Oscars for the third time.
But as we know, Hollywood is a fickle place, and as crazy as it may seem, Lawrence backlash is already brewing. So, to the girl on fire, I offer this advice: Get ugly.
Before you bluster and start throwing around words like "body shaming," allow me to explain. Beauty is obviously a very big advantage to actresses in Hollywood. To be perfectly frank, that alone can get a starlet a string of roles, talent be damned. But there's a tipping point where good looks can work against you, where the public begins to suspect that you're cruising by on them alone. It's absurd, but it happens. That's when actors who want to remind us they are more than gorgeous get ugly. Consider her American Hustle co-stars Bradley Cooper and Christian Bale. Cooper, a former Sexiest Man Alive, went out of his way to give his latest character a terrible perm because it makes us focus on the performance and not dreamy Cooper face. And Bale has made a whole career out of transforming his chiseled good looks in service of his roles. But that's not all.
On the actress front, consider the striking Nicole Kidman. A year after flaunting her figure and lustrous locks in Moulin Rouge, she put on a big prosthetic nose and mousy wig to play Virginia Woolf in The Hours, and won her first and only Academy Award for her troubles. Or think on the former JLaw, Jude Law. His natural good looks were a key factor in films like Wilde, A.I. Artificial Intelligence, I Heart Huckabees and Alfie. But recently he's started willfully casting aside sexiness for roles in Anna Karenina and Dom Hemingway, and it's made his career freshly fascinating.
Or remember the career trajectory of Charlize Theron. She'd been scoring roles against big stars in movies like The Devil's Advocate, The Astronaut's Wife and Sweet November. While a charming screen presence, no one was talking about her as a great actress for these. Then she purposefully hid her cover-girl good looks for the grungy portrayal of convicted serial killer Aileen Wuornos in Monster, and Oscar promptly came calling. Now, you wouldn't dare say Theron is "just a pretty face."
Jennifer Lawrence is on top of the entertainment world right now, and rightly so. But the public can tire of stars so quickly, especially when they get as much consistent coverage as Lawrence attracts. So, she needs to ground herself and her career by reminding everyone what a great actress she is -- with or without her natural beauty. It'd be smart to take a cue from chameleon performers like Bale, Gary Oldman or Toni Collette, who disappear physically into their roles to the point of being almost unrecognizable. And yes, I know, Lawrence was anything but glamorous in Winter's Bone, which earned the actress her first Academy Award nomination. But honestly, consider the amount of people who have actually seen that sensational indie? A $13 million worldwide gross means not nearly as many as The Hunger Games or X-Men: First Class.
Basically, I adore our JLaw, and I want her to keep making movies for decades to come. But to do that, I think it's time she gets down and "ugly," before the ugly tide of public opinion turns.
Your Daily Blend of Entertainment News
Staff writer at CinemaBlend.