Bradley Cooper On The Sex And Scandal Of His American Hustle Manchild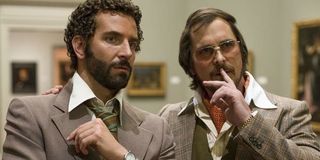 Bradley Cooper already has had an extraordinary career. In 1999, he made his screen debut on the hit HBO show Sex and the City. His first movie, Wet Hot American Summer, had him co-starring with Amy Poehler and has since become a cult classic. Then after a string of supporting roles in daffy laughers, this handsome Philadelphia native starred in an R-rated comedy about a foursome who parties too hard during a bachelor party weekend in Las Vegas. The Hangover was a massive hit, netting more than $467 million worldwide while garnering rave reviews.
Cooper had been launched, and his star status was confirmed in 2011 when People magazine named him Sexiest Man Alive. He proved his bankability with the thriller Limitless, and cemented his reputation as an outstanding actor with David O. Russell's The Silver Linings Playbook, which earned Cooper an Academy Award nomination for Best Actor. While his pretty boy good looks helped him get his career going, he no longer needs to rely on them in his work. In American Hustle, he reteams with Russell and gives up on vanity in favor of the storytelling.
Cooper plays Richie DiMaso, an FBI agent who busts a couple of con artists (Amy Adams and Christian Bale) that he hopes will help him in an entrapment operation. Inspired by the ABSCAM operation of the late 1970s, American Hustle is a movie all about people putting on an act. For Richie, this means not only his sting operation, but also his swagger... complete with on trend -- though poorly executed -- curly hair. Moments after meeting Richie onscreen, you get the sense that his confidence is all a sham. When I sat down with Cooper, he shared some telling insights into the Fed's inner workings.
Cooper details how Richie's home life, which has a nagging mother and a fretful fiancée but no father figure, has the agent both hungry for a father's approval and resentful of authority at work. In the film, poor Louis C.K. takes the brunt of Richie's aggression, whether he's refusing the guy's overzealous ideas or trying to share an anecdote about ice fishing. Cooper calls Richie a "paper pusher" with "big aspirations," but admits at his core Richie is a petulant teen. He explains:
As for those terrible curls, Cooper says he and Russell were inspired by the look of a real-life ABSCAM agent named Anthony Amoroso Jr. (See one of the videos Cooper mentions here.) Though they decided to make Richie's manufacturing of curls a part of his character, and his own personal con, better underlining the main theme of reinvention and deceptive facades.
See Richie and his curls in action in American Hustle on Dec. 20.
Your Daily Blend of Entertainment News
Staff writer at CinemaBlend.