Heather Graham And Carrie-Anne Moss Headline Compulsion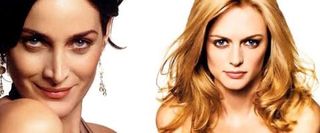 Though Heather Graham and Carrie-Anne Moss occupy entirely different realms of typecasting expectations—with the former generally cast as ditzy bimbos and the latter often scoring dramatic roles of shrewder women—both hit their heyday in that heady time of the late '90s/early 2000s. While Graham was bouncing from Rollergirl in Boogie Nights to Felicity Shagwell in Austen Powers: The Spy Who Shagged Me, Moss broke through at the incredibly cool Trinity in The Matrix, then drew notice as the manipulative femme fatale Natalie in Christopher Nolan's Memento. However, the unpredictable wave of fame has since ebbed for both, and now this odd couple has teamed up for Compulsion, a drama penned by Floyd Byars (Masterminds) and directed by Egidio Coccimiglio (Imaginary Grace).
Graham and Moss play a pair of neighbors who live across the hall from each other, yet worlds apart. One is furious with the world and herself, and is generally a black hole of rage and despair. The other is a chipper optimist, who believes the world is full of possibilities. You can probably guess who's playing whom. Moss portrays Saffron, a former child-star, current has-been who is effortlessly elegant and brilliant, but brutally judgmental. Graham is tackling the role of Amy, a chef who aspires to be a Food Channel star, and refuses to be brought low by her troubles or recent separation from her husband. Amy, pining for fame, inevitably approaches Saffron, beginning a relationship that leads to an intense battle of wills, the results of which are both startling and thoroughly unnerving.
Compulsion is now shooting in Ontario, Canada. Kevin Dillon and Joe Mantegna co-star.
Your Daily Blend of Entertainment News
Staff writer at CinemaBlend.
Your Daily Blend of Entertainment News
Thank you for signing up to CinemaBlend. You will receive a verification email shortly.
There was a problem. Please refresh the page and try again.