Helen Mirren May Join Bryan Cranston In Jay Roach's Daltron Trumbo Biopic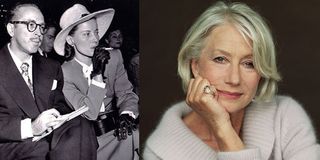 Between films like Hitchcock, The Last Station, The Madness of King George and The Queen, heralded English actress Helen Mirren has established a storied history of portraying historical figures with grace and gravity. So it's little wonder that she's been tapped to co-star in the upcoming biopic about blacklisted screenwriter Dalton Trumbo.
Variety reports Mirren has entered into negotiations to appear opposite Bryan Cranston in the biopic, which will simply be titled Trumbo. Should she sign on to the film, Mirren would play wife Cleo to Cranston's titular protagonist. Surprisingly, this biopic that seems suited to rousing drama is set to be helmed by Jay Roach, best known as the director of Meet the Parents and Austin Powers: International Man of Mystery.
Dalton Trumbo was an accomplished screenwriter in the 1930s and '40s, penning pictures like the romantic drama A Man To Remember and the biopic The Flying Irishman. But when the Red Scare and its paralyzing paranoia over communist influence took over Hollywood, Trumbo found himself blacklisted. In 1947, he was one of ten members of the industry called before the House Committee on Un-American Activities to testify about communists who might be conspiring in Hollywood. He (along with the nine others called) refused to testify, and were barred from working for the major studios as a result. Trumbo was additionally charged with contempt of court and was forced to serve 11 months in prison.
Trumbo did not let this keep him out of the filmmaking world, however. He continued to write, though he hid his identity under false pseudonyms. Today he is recognized for penning Oscar-winning epics like Stanley Kuybrick's Spartacus and Otto Preminger's Exodus.
Eventually representatives from each film were able to use them as tools to end Trumbo's blacklisting once and for all. Preminger and Spartacus star Kirk Douglas publically gave Trumbo his due. Even president-elect John F. Kennedy risked the wrath of the anti-Communists by crossing picket lines to see Spartacus in theaters.
Trumbo continued to write into the 1970s, and earned screenplay credits posthumously as his work continued to find an audience. All this is to say that Trumbo has a lot of fascinating history to pull from. Cranston is a thrilling choice for the project's lead, but the possible addition of Mirren suggests that Cleo's role will be meaty on its own. If she signs on, we'll know this is a sparkling script.
Produced by Groundswell Productions, Trumbo has not yet locked down a production start date nor a distributor.
Your Daily Blend of Entertainment News
Staff writer at CinemaBlend.