The Help Director Tate Taylor Could Adapt Another Novel, Peace Like A River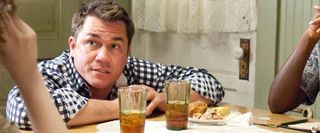 Tate Taylor had a lot riding on The Help, his adaptation of childhood friend Kathryn Stockett's bestselling novel that hit theaters last weekend. Disney had put a ton of cash into the project, counting on the novel's legions of fans to come out in droves, but also put the movie in the hands of Taylor, a director with just one feature film behind him. Of course, they didn't have much of a choice-- Stockett had sold Taylor the rights to the film and allowed him to start adapting the screenplay before the book was even published.
Lucky for everyone involved, The Help turned out pretty well both in terms of quality and box office success, and Taylor is now moving fast to turn that success into a new job. THR reports that Taylor is in talks to direct Peace Like A River, which will be another adaptation of a hit novel set in the early 60s, this one from Leif Enger. Though the bestseller bona fides make this a natural transition for Taylor, the specifics of the story are pretty different-- the story is narrated by an 11-year-old whose brother has escaped a murder trial, causing the rest of his family to hit the road to find him. As THR somewhat simplistically puts it, the book "dealt with themes of forgiveness and miracles;" as Publishers Weekly put it in a review listed on Amazon, "This is a stunning debut novel, one that sneaks up on you like a whisper and warms you like a quilt in a North Dakota winter, a novel about faith, miracles and family that is, ultimately, miraculous."
It seems Warner Bros. wants Taylor to direct the film so badly that they'd be willing to tea up with DreamWorks, which has an option on whatever Taylor does next, to make it happen. But the director is apparently considering several projects at the moment, so no promises that Peace will get moving any time soon. I haven't read Peace, but the plot description makes me wonder if someone's also trying to get Taylor interested in The Story of Edgar Sawtelle, another bestelling book that was optioned in 2009 by forces no less powerful than Oprah and Tom Hanks. I'm pretty sure that book is actually impossible to adapt, which is why we haven't heard anything from it since, but hey, if Taylor is so on fire right now, maybe he ought to give it a shot.
Your Daily Blend of Entertainment News
Staff Writer at CinemaBlend