Here Comes The SLC Punk Sequel You Didn't Ask For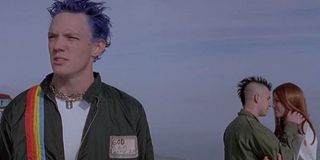 Middle-aged punks. Greying mohawks. Back in 1998 writer-director James Merendino mined his own rebellious youth to created the dramedy SLC Punk. The film about two 1980s punks nonconforming in conservative Salt Lake City earned a coveted spot on the Sundance Film Festival's opening night and went on to find a devoted fan base. Since then, Merendino has gone on to make a handful of movies you've probably never heard of like a crime comedy called Magicians and a horror flick titled Death Club. But he's clawing his way back to relevance by returning to his greatest success for a sequel.
Film School Rejects reports Merendino is looking to bring much of the cast from SLC Punk back together for Punk's Dead, a sequel that would pick up with the grown punks in 2003. In his announcement, Meredino explains:
Reportedly in talks to reprise their roles are Matthew Lillard, Annabeth Gish, Devon Sawa, Til Schweiger, Chris McDonald and Michael A. Goorjian. Casting confirmations should come soon, as production on Punk's Dead is proposed to kick off this August, meaning the finished film could hit theaters in 2014.
Sequels to independent films are rare, or at least far more rare than studio-backed sequels. But it's worth noting that a couple if indie sequels of late have proved welcomed additions to their beloved originals. Last year Julie Delpy unveiled 2 Days in New York, a sequel to her heralded 2007 comedy 2 Days in Paris. And even though the second film jettisoned one of the protagonists from the first, it was met with warm critical praise. This year at Sundance, Delpy fronted another indie sequel, the hotly anticipated Before Midnight, the third film in Richard Linklater's romance trilogy, following Before Sunrise and Before Sunset. Wild praise followed.
In each of these instances, characters who were lovable but flawed resurfaced to show audiences where they are years later, and were roundly embraced. Could the same prove true for Punk's Dead? Weigh in below.
This poll is no longer available.
Your Daily Blend of Entertainment News
Staff writer at CinemaBlend.
Your Daily Blend of Entertainment News
Thank you for signing up to CinemaBlend. You will receive a verification email shortly.
There was a problem. Please refresh the page and try again.