Here Are Keanu Reeves' Thoughts On Speed 3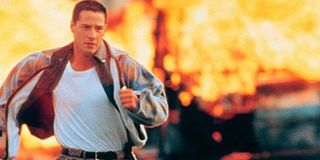 Mid-90s action movie fans prepare yourselves, because your Tuesday is about to get a whole lot better! Keanu Reeves has officially confirmed that he is in for a Speed 3. Isn't the world sometimes just a glorious place?
Reeves made the surprising revelation during a discussion with Nerdist to promote his upcoming action behemoth, John Wicks, which doesn't look half-bad too. After talking about his latest flick, Reeves was asked by interviewer whether he would ever consider returning for Speed 3, and it turns out that he isn't as opposed to the idea as everyone would have guessed.
At first the Matrix star even teased a potential title for the third installment to the series, "Speed 3: Redemption," before he then proclaimed, "Sure. Jack Traven just dusting it off." Now there's no denying the fact that Reeves' tongue seemed to be firmly against his cheek when he responded to this question, but anyone who has been following Speed 3's lack of development over the last few years knows this is still a huge change in tone for the actor.
While attending last year's Toronto International Film Festival to promote Man Of Tai Chi, his heavily criticized directorial debut that also flopped at the box office, Reeves was reminded that his Speed co-star Sandra Bullock was also in town to promote her turn in Alfonso Cuaron's Gravity. This led a Yahoo interviewer to ask Reeves, "Everybody always wants to know if you guys are getting together for another Speed movie," and to the actor's eternal credit he responded in a rather pithy, witty fashion, by declaring, "Oh my gosh, no. I think that bus has left." Not too bad a pun for a man who sometimes looks as though he was born without a funny bone in his body.
If Reeves did decide to return for Speed 3 then it would be one of the biggest U-turns in cinematic history. After the original Speed proved to not only be a huge hit film back in 1994, grossing a whopping $350 million from a $30 million budget, but also a pop-culture phenomenon too thanks to its terrific set-pieces and premise, a sequel was instantly ordered. However, Reeves decided to pull out of the follow-up after he read the in-development script and decided that it was turgid; a conclusion that, in hindsight, most people can see clearly. Bullock wasn't so lucky though, and she decided to make the movie so that her 1998 drama Hope Floats could receive funding. Jason Patric ultimately beat out the likes of Jon Bon Jovi, Billy Zane and Christian Slater to play the male lead, Alex Shaw, in Speed 2: Cruise Control, but Reeves' decision not to star had already irreparably damaged the film, and despite the fact that it made its budget back with ease, it is widely regarded as one of the worst sequels ever made.
With the early-word being that Reeves is back to his bristling best in John Wicks, and Hollywood always adoring a good sequel idea, maybe Speed 3 isn't such a preposterous thought anymore. Just one suggestion: set this sequel on a vehicle that actually moves fast. Please.
Your Daily Blend of Entertainment News
Thank you for signing up to CinemaBlend. You will receive a verification email shortly.
There was a problem. Please refresh the page and try again.