Hitler Is Apparently On Tour To Promote A German Movie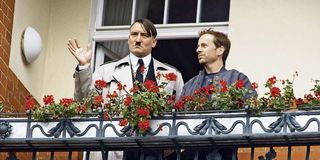 Oftentimes movie studios will use attention-grabbing guerilla marketing ploys to promote their movies and, while such PR stunts are generally harmless fun, once in a while they'll really test the boundaries of "good taste." Such was the case for a recent German production, which reincarnated Hitler and sent him parading around the country's cities. Wait, didn't Sacha Baron Cohen already do something like this?
To promote the new film spoof Look Who's Back, Munich mini-major powerhouse Constantin Films decked out the film's star, Oliver Masucci, in full Adolf Hitler garb and sent him on a hidden camera tour. It's a very Borat-esque move to promote the film that centers on Hitler's return to modern-day Germany (as based on the book by of the same name by Timur Vermes).
In Berlin, "Hitler" was spotted on the balcony of a hotel as a group of demonstrators from the right-wing neo-Nazi NPD marched below. He reportedly mocked the skinheads and called them "Schlappschwänze," a German word roughly translating to wimps. Other reports say the look-a-like dictator has been spotted hanging out at gas stations, stores and coffee shops.
Interestingly, the Look Who's Back movie doesn't begin principal photography until Saturday, but already there's lots of interest in its production. The book is already a huge seller in the country, despite World War II being a blot on their history. Germans just can't get enough of Vermes' satirical take on the Nazi leader. Much like we can't get enough of mocking Hitler memes.
In Vermes' opus, after waking up devoid of the bullet rattling around his skull, Hitler wanders around his homeland, becoming a celebrity after everyone assumes the Nazi leader is a remarkably gifted impersonator who refuses to break character.
When you think of the book's story like that, Constantin's marketing tactic is obviously an incredibly meta move. Until now, they've kept all aspects of the production hush hush, including Masucci's involvement who, as Deadline reports, was purposely chosen as the lead for his lack of public profile. But is this controversial campaign, which has lit-up social media, a tasteless low blow? Hitler is still a very taboo subject in media, so should seeing a photo of Germany's most loathed wind bag sipping an espresso or pumping gas necessitate a "Like" or "Retweet"?
Your Daily Blend of Entertainment News
Thank you for signing up to CinemaBlend. You will receive a verification email shortly.
There was a problem. Please refresh the page and try again.