Hollywood Returning To The Phantom Tollbooth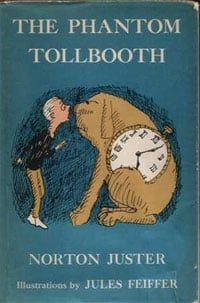 Hollywood has resigned itself to the fact that remakes are where it's at. Find something that's been done before, do it again with new special effects, hope to make a lot of money. Lately they haven't waited very long before reinventing something; The Incredible Hulk, which was just made in 2003, was remade in 2008.
At least this latest movie being pulled out of the Tupperware and tossed in the Hollywood microwave hasn't been done in a while. At forty years old, it might benefit from some fresh and imaginative design.
Norton Juster's children's fantasy story The Phantom Tollbooth will get a re-visit under the eye of director Gary Ross (director of Pleasantville and Seabiscuit,) who has teamed with Warner Brothers for the project. Looks like the WB is still trying to find new children's fantasy to compensate for losing Harry Potter next year,
According to Pajiba Ross will mimic the 1970 Chuck Jones film by combining live-action and animaton to recreate main character Milo's bizarre journey.
Of course, there's no script yet. Well, there's a first draft from The Watchmen writer Alex Tse, but Ross and the execs at Warner Brothers are looking for some changes before giving it a go.
Your Daily Blend of Entertainment News