How Amy Adams Feels About Being Paid Less Than Male Actors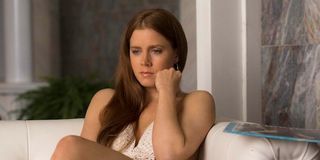 There's been a great deal of discussion recently about the gender pay gap in Hollywood. While there are exceptions, as a whole, female stars are paid much less than their male counterparts for roles of similar size and importance. David O. Russell's American Hustle was an ensemble picture through and through, with numerous actors playing vital parts. Still, Amy Adams made much less money than her male co-stars, and she recently spoke out about her feelings on the matter.
In an upcoming issue of GQ, Amy Adams opens up about a number of topics, and while the whole thing won't be out until tomorrow, some pieces have been revealed already. In one bit, she said she knew she was being paid less than her male costars like Bradley Cooper and Christian Bale, but said there wasn't much she could do about it if she wanted to be in American Hustle.
Talking candidly, Amy Adams reveals one of the harsh realities for actresses working in Hollywood. Even though she has five Academy Award nominations in just over a ten-year span—not to mention a number of other awards and nominations—and has appeared in hits like Enchanted, Man of Steel, The Muppets, and the upcoming Batman v Superman: Dawn of Justice, she still has to agree to work for less money or she, in all likelihood, simply won't work. Films will find someone willing to do it for less and that's that.
There are a few notable instances where this is the case, including Amy Adams' American Hustle costar Jennifer Lawrence. For the upcoming sci-fi adventure Passengers, she is reportedly making roughly twice what her male costar, Chris Pratt, is slated to make. Lawrence has become one of the biggest movies stars in the world, rising in meteoric fashion, but she still is very much the exception, not the rule.
For her part, Jennifer Lawrence has been very outspoken about being paid less than "the lucky people with dicks," and how women have been conditioned to not push things like money, lest they become viewed as "spoiled brats" or labeled "difficult" to work with. Progress in this arena has been painfully slow, but hopefully as more people continue to bring it out into the open, there will be some momentum.
Your Daily Blend of Entertainment News