How Andy Serkis Helped Mark Ruffalo Crush His Hulk Performance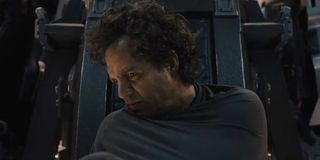 We've been exposed to some of the greatest performance capture roles in film history thanks to Andy Serkis. From Gollum to Caesar, Serkis' skill set goes well and far beyond just a typical voice artist. We recently heard his narration in the new Star Wars: The Force Awakens trailer and are incredibly excited for his confirmed role in the film. But beyond our own excitement for the actor's progress, he is majorly respected in the film industry for his expertise. So it's no wonder Marvel asked for his help when filming Avengers: Age of Ultron. His advice for voice projection and a sense of scale is what helped mold Mark Ruffalo's incredible Hulk performance.
In a recent interview with Empire magazine Serkis discussed his hands-on work with Mark Ruffalo to help him hone the physicality of the Hulk:
By adding weights, and showing the virtual representation, Ruffalo was surely able to get a better sense of hulking out. Serkis went deeper into explaining the process in an interview with The Daily Beast a few months back:
That comfortability that Ruffalo experiences must have been incredibly helpful for the role, considering the character's new responsibilities. In The Avengers, we were introduced to an awkward, quiet Banner, who had found a way to keep the big green at bay. But, as he starts to distinguish an important role in the Avengers team, Banner has to let the Hulk out.
There is Jekyll and Hyde situation going on that is sure to be explored deeper in the new film. The peaceful doctor who lives secluded and alone is no more, and especially up against a villain as powerful as Ultron, control over the Hulk will be detrimental. So Serkis' help was definitely necessary, and will help Ruffalo's performance of his character's inner demons really shine through.
And Ruffalo confirmed in a tweet months back, that yes indeed, Andy Serkis has been a huge help. Confirming our excitement for the new collaboration.
Mark Ruffalo's Bruce Banner may just be the best one yet. We'll find out when The Avengers: Age of Ultron hits theaters May, 1 2015.
Your Daily Blend of Entertainment News
Your Daily Blend of Entertainment News
Thank you for signing up to CinemaBlend. You will receive a verification email shortly.
There was a problem. Please refresh the page and try again.