How The DC Comics Solo Movies Will Affect The Justice League Film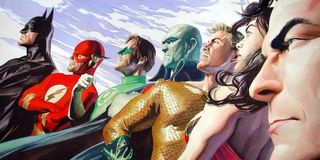 Zack Snyder's Batman v Superman will pit the Dark Knight against the Man of Steel, but just as important is the film's subtitle. Dawn of Justice points to the impending two-part Justice League, which will presumably see these two DC titans team up with Wonder Woman, Aquaman, The Flash, Cyborg and (at least one) Green Lantern. While Kevin Feige spoke about how all of Marvel's films work together to support the Avenger team-ups, Snyder came out to explain how each of the DC installments are influencing his Justice League.
Empire magazine recently released its latest Batman v Superman cover and a few images to go along with it, but within the issue itself is an interview with the filmmaker as he goes into further detail about Justice League. In an interview (published online via Comic Book Movie), Snyder said,
Batman v Superman is hitting theaters next year on March 25, after which comes Suicide Squad on August 5, 2016, and Wonder Woman on June 23, 2017 before part one of Justice League drops on November 17, 2017. Between then and part two in 2019 are solo films for The Flash and Aquaman, while Cyborg and Green Lantern Corps. are coming post-part two. Snyder said that he wants all the directors of these solo films to "be able to stretch their legs and do what they want," but to also be mindful of the overarching plan for the universe. To better equip them to succeed, he said he gave everyone "amazing access" to the Justice League story. As such, he told Empire:
It seems like a similar maneuver Marvel implemented on its films. Though the focus was originally on Robert Downey Jr.'s Iron Man, Feige has said in the past that they knew what they were building up to when Samuel L. Jackson's Nick Fury came in for that post-credits scene.
The difference with DC is that these heroes will appear fully formed in Batman v Superman before branching off into their own solo films. We've already seen Gal Gadot suited up as Wonder Woman, but Jason Momoa's Aquaman is said to have a more "elusive" cameo in the film. That said, Snyder told the magazine that we will "understand he exists." Ezra Miller's The Flash and Ray Fisher's Cyborg are also said to make similar appearances in Batman v Superman, so keep your eyes peeled come release time.
Your Daily Blend of Entertainment News