This Is How Far Daniel Radcliffe Is Willing To Go For A Role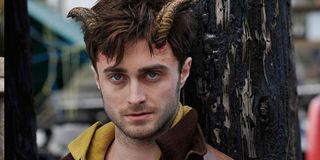 This Halloween, Daniel Radcliffe will return to theaters in the fantasy-horror thriller Horns. But it turns out that the Harry Potter actor's true love is history, and he's looking to explore this interest with two enticing docudramas. What's more, he's going the extra mile to make sure that he's doing the material justice.
In an engaging interview with Mental Floss, Daniel Radcliffe offered his thoughts on various intellectual curiosities and interests, from reality TV (he loves Top Chef) to his favorite book (Mikhail Bulgakov's The Master and Margarita). But it came to a simple question about his latest endeavor--teaching himself Japanese--that led to an unexpected update on Tokyo Vice. Radcliffe reports:
Penned by playwright JT Rogers, Tokyo Vice aims to unravel the wild true tale of American journalist Jake Adelstein, whose reporting for a Japanese newspaper made him an enemy of yakuza boss Tadamasa Goto - a man who described as the "John Gotti of Japan." So not only is Radcliffe learning Japanese, but he'll need to learn how to speak it with an American accent. Thankfully, he's had some practice on the accent thanks to Horns. But even beyond that he has lots of playtime experience.
"I worked with an accent coach," Radcliffe said of his work on Horns. "But I had also done an American accent for a long time, just because when I was playing as a kid, I would give my action figures American accents. We're just infused with American TV shows in England, and that's mostly what I watched. I guess I learned my accent from The Simpsons, because that was my first interaction with America."
Music video helmer Anthony Madler was slated to helm Tokyo Vice in May of 2013, but it sounds like production has hit a snag, considering Daniel Radcliffe is calling this a film he "hope(s) to do."
The other historical drama that's on Radcliffe's wish list is Brooklyn Bridge, a film that Variety reported earlier this year was poised to shoot in August. Of course, that time has come and gone, and no news on this Killer Films property has surfaced. Radcliffe is set to play Washington Roebling, the newbie engineer who was left in charge of the iconic bridge's construction in the wake of his father's death. Brooklyn Bridge is expected to tell of his struggles in mounting this structure, but like its inspiration the film seems to run into some production troubles.
Radcliffe has not hinted at what the hold-up might be, but has shared his enthusiasm for Brooklyn Bridge to come together, offering:
As if his passion for this project weren't enticing enough, his description of the plot of Emily and Washington Roebling is downright charming. Here's hoping we get good news about these docudramas soon.
Your Daily Blend of Entertainment News
Staff writer at CinemaBlend.