How Fox Can Save Wolverine From Piracy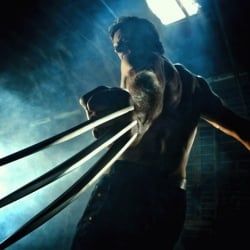 Obviously there's a lot of scrambling going on at Fox today, as they try to figure out just who leaked the flawless copy of Wolverine online, and how much it's going to hurt their opening weekend. Here at ShoWest we've been talking about it nearly nonstop, and the general consensus seems to be that, no matter how much we all talk about how awful this kind of piracy is, there's a huge subset of fanboys who won't be at the multiplex on opening weekend.
Fox doesn't have a lot of options to juice up the theatrical release, just one month before the movie is set to debut. There might be some previously deleted scenes that can be added, or even an effects shot or two that might add some interest. But director Gavin Hood is just one man, and on a movie this expensive, there's probably not a lot to add that's not already in the movie.
But Fox has one ace up their sleeve, one movie coming out this year that nearly everyone is excited about: Avatar. The word has been lately that we won't see a trailer, or even a single scene, from the movie until later this summer when Comic Con gets going. But if Fox can somehow pull together a trailer for Avatar and play it before Wolverine, they can recover from the enormous blow of the Wolverine piracy.
No movie coming out within the next year is shrouded in more secrecy than Avatar, and it's hard to imagine any other trailer audiences would pay $12 to see. It would be a scramble for them to pull something together that quickly, but if they're going to salvage this mess, they've got to start thinking creatively. If Avatar lives up to the hype, it will be by far the biggest movie Fox has this year. It's already time for them to start cashing in on it.
Staff Writer at CinemaBlend
Your Daily Blend of Entertainment News
Thank you for signing up to CinemaBlend. You will receive a verification email shortly.
There was a problem. Please refresh the page and try again.