How Jennifer Aniston Feels About Her Oscar Nomination Snub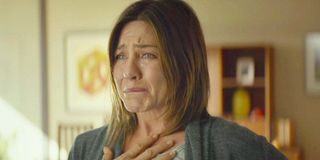 Jennifer Aniston is already over her Oscar snub. In fact, she insists that she's happy to be regarded as the "number one snubbed" after the Academy decided that her lauded performance in Cake wasn't quite nomination-worthy.
Jennifer Aniston recently appeared as a guest on Ellen and divulged her feelings on the recent Oscar nominations. The former Friends actress admitted that she is trying to remain positive despite being overlooked for the accolade in favor of Two Days, One Night's Marion Cotillard, The Theory Of Everything's Felicity Jones, Still Alice's Julianne Moore, Gone Girl's Rosamund Pike, and Wild's Reese Witherspoon. She told Ellen Degeneres:
Aniston revealed that everyone associated with the film is overjoyed with the response to Cake. Especially since it hasn't even been released yet. Aniston has looked to prove herself and her acting credentials with the portrayal of Claire Bennett in Cake. In fact, many movie experts and insiders have suggested that Aniston only took the role because it is drenched with characteristics and traits that are embraced during awards season. The actress' character in Cake is a woman who is constantly living with chronic loss, pain and addiction to a number of substances.
But, if Jennifer Aniston's ambition was to receive numerous plaudits and prove that she can mix it with the best actresses cinema has to offer, then she has done just that. Aniston has already earned Golden Globe, Critics' Choice and Screen Actor's Guild nominations for her work in the low-budget indie. It hasn't stopped there though. The actress also claimed an acting award at the inaugural People Magazine awards, and she will be handed the Montecito Award at the 2015 Santa Barbara International Film Festival at the end of the month too. All in all that's pretty good going for an actress whose most famous cinematic exploits up until this point had come as the love interest in a series of raunchy comedies.
That's not to say that she hasn't thrown in the impressive dramatic performance on the big-screen since she said goodbye to Central Perk in 2004. Friends probably eclipsed Jennifer Aniston's efforts in The Good Girl, while Derailed and The Break-Up each gave her a platform to show off her acting range too. At this point it's really hard for me to pass judgement on whether Jennifer Aniston actually is the "number one snubbed" as she claims though. That's because I've yet to see Cake. However the likes of Phil Lord & Chris Miller, David Fincher and Avu DuVernay will probably insist that they were just as equally overlooked by the Academy, in lieu of The Lego Movie, Gone Girl and Selma's surprising omissions. We'll be able to see if Jennifer Aniston really did deserve a best actress nomination when Cake is released on January 23, 2015.
Your Daily Blend of Entertainment News
Thank you for signing up to CinemaBlend. You will receive a verification email shortly.
There was a problem. Please refresh the page and try again.