How The Joker Is Like Hamlet, According To Jared Leto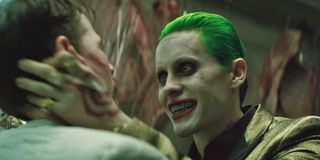 By the time DC's supervillain team up Suicide Squad rolls around later this year, we'll have already seen numerous live-action incarnations of Batman's most famous foe, the Joker. Cesar Romero played him on the campy 1960s TV series, Jack Nicholson brought him to life in Tim Burton's 1989 Batman, and Heath Ledger won a posthumous Oscar for his version of the Clown Prince of Crime in Christopher Nolan's The Dark Knight. Human chameleon Jared Leto takes on the guise in David Ayer's Suicide Squad, and he compares the criminal's long history and continual evolution to another literary character: Hamlet.
Talking to Entertainment Weekly, Jared Leto, who won an Oscar for Best Supporting Actor in The Dallas Buyers Club, praised those who have taken up the role before him, and discussed how he approached playing such a well known, well loved character, comparing it to other artistic endeavors. He said:
Sure, maybe the Joker doesn't have quite the resume that Hamlet does, but as Jared Leto points out, he's had his fair share of incarnations over the years. In some forms he's more or less a criminal with a flair for the dramatic, while in others he's a stone cold psychopath who gets off on murder and mayhem for no larger reason than that.
Everyone who has ever has ever taken a whack at the Joker, whether it is an actor in live-action, a voice actor like Mark Hamill or others in many of the animated Batman adventures, or artists and writers, has brought their own unique spin to the legendary villain. In Suicide Squad, it's Jared Leto's turn, and from what little we've seen thus far, it will be quite a change from previous iterations, though no less terrifying. Hell, the various stories of him not breaking character and terrorizing his co-stars and the crew on set are more than enough to unnerve most of us and we won't even see the damn movie for months.
Suicide Squad is reportedly undergoing some reshoots to add more fun to the proceedings, and we'll see Jared Leto's version of the Joker late this summer when the film opens on August 5.
Your Daily Blend of Entertainment News