How Jubilee In X-Men: Apocalypse Will Differ From the Comics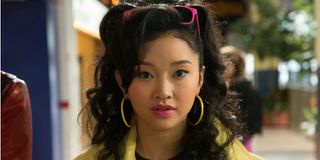 Lana Condor is a ball of energy. The youngest member of the main cast was clearly pumped to be on the set of X-Men: Apocalypse bringing Jubilee to life — and she should be. Director Bryan Singer has been trying to feature the character in an X-Men movie since the beginning. Katrina Florece portrayed her in a background role for X1, Kea Wong featured in a deleted scene from X2, and scrapped Jubilee concept art was designed for Days of Future Past. Condor is, in many ways, the first actress to really play the character on screen, though this Jubilee will be slightly different from what you remember in the comics.
"Jubilee, her power in the comic books is fireworks. In this film, I can safely say her power is more fire-ploid, plasmoid, electricity type," Condor said from the set, likening the special effects to the white energy used for Kitty Pryde's powers in Days of Future Past. She continued,
That's an understatement. The '80s exploded on her costume. In addition to wearing fishnets and the character's classic yellow jacket, Condor's flair game consists of pins that say things like, "I love '80s," "Take a chill pill," and "Stay golden, Ponyboy." Some of these costume pieces are direct from the decade, or as Condor puts it, "much older than me."
"She's fun. She's a really, really, really fun girl," Condor said, remarking later how she wishes she had someone to have a little conflict with — even Apocalypse. The actress explained Jubilee, who is often the comedic relief, has a "very strong knowledge that something is going wrong, but in terms of knowing specifics, it's very much like Hank [Nicholas Hoult] or Jen [Lawrence, who plays Mystique]" dealing with the conflict. Should Fox develop another sequel, Condor hopes Jubilee would have "an even bigger character arc because she's just starting out."
Unfortunately for her, even if that happens it won't involve Hugh Jackman, whose retiring his Wolverine role after the character's third standalone film. "What I love about her in the cartoons and the comics is that she has a great relationship with Wolverine," she said. "I met Hugh Jackman at Comic-Con. Oh my god, I wanted to die. Like really."
X-Men: Apocalypse hits theaters on May 27. Find out more about Quicksilver's next big scene, the Four Horsemen, the new timeline, and more from our set coverage.
Your Daily Blend of Entertainment News