How Many Actors Star Wars Has Already Looked At For Young Han Solo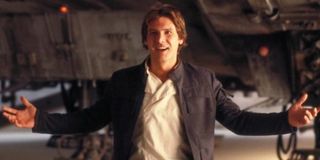 Star Wars isn't just about "Episodes" anymore. Next year will see the first Star Wars Anthology film with the release of Gareth Edwards' Star Wars: Rogue One, a movie that takes place in the same universe as the main saga, but follows characters not directly related to the Skywalkers. The next non-saga project after Rogue One will be a young Han Solo project, and with filming set to begin in about 12 months, producers are scouring the galaxy looking for the actor who will play the iconic role. The good news is if you're a young male actor, you pretty much have as good a shot as anybody else, as the word is that over 2,500 people have been looked at for the part.
J.J. Abrams specifically went looking for unknown actors when casting his two leads in Star Wars: The Force Awakens, but obviously being a known quantity does not appear to be a negative in the case of the Han Solo movie. Names you've heard like Miles Teller and Tom Felton have apparently been thought about for the part, as well as up-and-coming actors like Jurassic World's Nick Robinson are also being looked at. Being unknown certainly won't hurt you either. For example, unless you're a big fan of the Disney Channel series Kickin' It, you're probably not familiar with Leo Howard - but you may be soon if he gets the role.
Age is not an issue either. According to The Hollywood Reporter, 16-year-old Walking Dead star Chandler Riggs is on the list, as is 34-year-old Rami Malek. Technically Malek could still play a "young" Han Solo, but he'd have to hurry. Harrison Ford was 35 in 1977 when the first Star Wars movie came out.
The plan is to cut the massive number of actors down to something manageable, then to turn the short list over to directors Phil Lord and Chris Miller to make final decisions. The movie is set for a summer 2018 release with filming looking to begin in January of 2017, so while there's plenty of time, there are a lot of actors to get through.
To say the least, this a huge opportunity for any young male star. Becoming part of the growing Star Wars franchise would be a feather in the cap of any actor, but it also could start the career of a young unknown with a bright future ahead of him. Star Wars was the movie that really made the world aware of Harrison Ford, and it could do the same for whoever the lucky winner of the Han Solo lottery turns out to be.
With 2,500 people apparently being considered there are a lot of names that we obviously don't know are being looked at – and a few of them are likely names we'd recognize. Who do you think would make the best young Han Solo? One of the names listed, or somebody else entirely? Hit the comments below with your thoughts.
CinemaBlend's resident theme park junkie and amateur Disney historian. Armchair Imagineer. Epcot Stan. Future Club 33 Member.
Your Daily Blend of Entertainment News
Thank you for signing up to CinemaBlend. You will receive a verification email shortly.
There was a problem. Please refresh the page and try again.