How Mark Hamill Almost Died While Filming Star Wars: The Force Awakens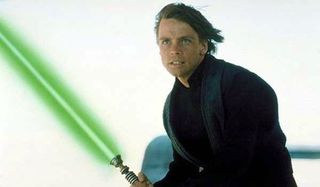 Update: To paraphrase Mark Twain, reports of Mark Hamill's near death have been greatly exaggerated. The Star Wars star took to Twitter to set the record straight about his supposed on-set accident. Turns out it didn't happen exactly like that, or at all.
Original Story: As it turns out, Harrison Ford wasn't the only one who had it rough on the set of Star Wars: The Force Awakens. While Han Solo suffered an ankle injury — he was betrayed by the Millennium Falcon — his co-star Mark Hamill had a life-or-death situation. Obviously, he's okay now, but Luke Skywalker could have been a "goner."
According to a report from The Times in the U.K., the incident happened a while ago — a few weeks after Ford's injury — but it's only now being reported. If you recall, The Force Awakens set up shop on the island of Skellig Michael near Ireland in the Iveragh Peninsula. Hamill was one of the folks spotted on location, which features a hefty climb up the 618 stone steps. Reportedly, the actor, 63, was headed up to the monastery when he slipped. Thankfully, a guide from the Irish Office of Public Works reached out and grabbed him, preventing him from a treacherous spill.
It may sound like a bit of an exaggeration, but the rocky terrain of Skellig Michael has claimed two lives in recent years. Fifty-seven-year-old Christine Danielson Spooner of Rochester, New York, was vacationing with her husband when she died in 2009 after plunging 30 feet from a ledge close to the top of the stairs. Five months earlier, 77-year-old Joseph Gaughan from Pennsylvania died after falling from the same ledge. A safety report was released after these tragedies warning tourists of the dangers and offering 31 safety tips. According to Irish Central, the Conservationists and the Office of Public Works believe installing a handrail will destroy the natural beauty of the location, though they have "reconfigured" some of the steps along the steeper areas and installed a steel chain along the ledge.
Harrison Ford, arguably, had it worse. The 73-year-old actor had to be airlifted to a hospital after he was impaled by a door to the Millennium Falcon, causing ankle and chest injuries. He too ended up being fine and production only ended up being suspended for a short period.
Ford and Hamill will reprise their roles as Han Solo and Luke Skywalker in J.J. Abrams' upcoming film, set for release on December 18. Carrie Fisher, who portrayed Princess Leia opposite the pair in the original trilogy, will also return. The film also sees a new cast of characters emerging to the forefront: John Boyega as a Stormtrooper on the run, Finn; Daisey Ridley as a scavenger from the desert planet Jakku, Rey; Oscar Isaac as the best X-Wing pilot in the galaxy, Poe Dameron; Adam Driver as Kylo Ren, a non-Sith former member of the Knights of Ren; Domhnall Gleeson as the new tyrannical threat, General Hux; Gwendoline Christie as a chrome-tastic Stormtrooper Captain, Phasma; Lupita Nyong'o as a space pirate, Maz Kanata; Andy Serkis as a character named Supreme Leader Snoke; and many more.
Your Daily Blend of Entertainment News
Thank you for signing up to CinemaBlend. You will receive a verification email shortly.
There was a problem. Please refresh the page and try again.