Star Wars Episode VII Just Rented One Of The Most Beautiful Islands In The World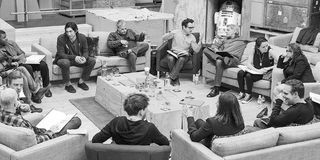 Though set in a galaxy far, far away and long ago, Star Wars: Episode VII will soon be finding a new home just off the coast of Ireland.
Independent reports Star Wars: Episode VII has secured shooting permits to film on location on Skellig Michael, an island west of the Iveragh Peninsula of Ireland. The latest Star Wars installment is currently in production in the soundstages of London's Pinewood Studio. However, at the end of August, production will briefly move to Skellig Michael for at least three days. During this time, the island will be closed to visitors.
No mention is made of whether this shoot will be a first unit or second unit affair. Though the cast of Star Wars: Episode VII includes Harrison Ford, Carrie Fisher, Mark Hamill, Andy Serkis, Domhnall Gleeson, Peter Mayhew, Max von Sydow, Adam Driver, Oscar Isaac, Lupita Nyong'o and Gwendoline Christie, it's unknown which of this ensemble will be called to Skellig Michael.
Check out some pictures of this incredible location below, and then weigh in on comments with where in the wide world of the Star Wars universe you suppose it might be meant to represent.
Pulled from Wikipedia, this first shot shows the craggy yet green island from a distance.
This second picture reveals the Stairs on Skellig Michael. Look closely, and you'll see a swerving stone path cutting through the vibrant green grass.
Counted as a part of County Kerry, Skellig Michael is famous for housing a monastery that is believed to be founded somewhere between the 6th and 8th century. Remarkably, the monastery was occupied until the late 12th century, when it was abandoned. The Office of Public Works took ownership of the site in 1880, and has officially confirmed the Star Wars: Episode VII shoot will happen there. In 1996, The United Nations Educational, Scientific and Cultural Organization dubbed Skellig Michael a World Heritage Site, confirming its status as a place of historical import. It was declared a "unique example of an early religious settlement." The island also holds cultural relevance, being a setting of Irish folklore.
Access to the island is only possible by boat, and to reach this incredible monastery, you must crawl that winding path of stairs seen above. Once you get to the top, you can take in such sites as this one, of the monastery's graveyard, still standing after some 1300 years or more.
Star Wars: Episode VII opens December 18th, 2015.
Your Daily Blend of Entertainment News
Staff writer at CinemaBlend.