How Matthew McConaughey Feels About All Those Romantic Comedies In Retrospect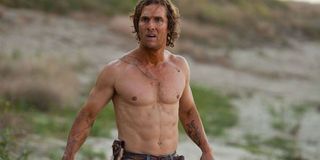 There was a time when Matthew McConaughey was only known for his work in the romantic comedy genre. Throughout the 00's he did little else than be perpetually shirtless and kiss his attractive co-stars. Obviously that's not a bad way to live, and even though these films were regularly ripped apart by critics, McConaughey continued to churn them out. Now that he's widely regarded as one of the most arresting screen presences of modern Hollywood, you might expect him to be embarrassed of his work during those years. But that couldn't be further from the truth. In fact he's still incredibly proud of his performances.
Matthew McConaughey stood by the likes of The Wedding Planner, Failure To Launch and How To Lose A Guy In 10 Days during a chat with GQ. His interviewer was clearly trying to get him to disparage the pieces but he wouldn't bite. Instead, he spoke at great lengths about how it was actually really hard to excel in these films. After being asked "is there work in the romantic comedies that you're proud of?" Matthew McConaughey said,
McConaughey wasn't done with his staunch defense of these films. He then went on to explain how he had to fight tooth and nail to make each of the characters he portrayed relatable to both male and female viewers. In fact if people think that he sauntered through each of these performances then he's pleased, because that was exactly the look he was going for.
It's actually somewhat refreshing to see an actor stand by lambasted pieces of work. Especially when you consider that because of his renaissance Matthew McConaughey could easily just turn on them and declare that they were worthless slices of mainstream entertainment. While it's clearly true that Matthew McConaughey's films during this period didn't set the movie-world alight, they were never designed to be like that. They were meant to be escapist movies that took viewers on a light, romantic jaunt and had a few laughs along the way. And you can't argue that each of them delivered on this front. Yes, True Detective, Dallas Buyers Club and, hopefully, Interstellar are more complex and mature movies, but that doesn't mean the effort and toil that went into them is any different. It's just easy, cool and a tad moronic to look at it that way.
Your Daily Blend of Entertainment News