Who Guardians Of The Galaxy 2's Latest Addition May Be Playing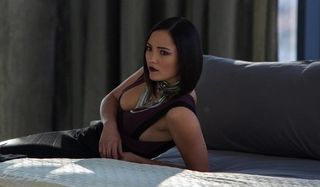 Just the other day we learned that, after an extensive search, Marvel's upcoming deep space adventure, Guardians of the Galaxy Vol. 2, cast relative unknown Pom Klementieff in an unspecified role. Well, it didn't take long, and though we don't have official word, a new report indicates just who she may be playing.
Just a heads up, there may be potential mild SPOILERS beyond this point if you're concerned about such things.
Though Klementieff's role is being kept under wraps for the time being — this is Marvel after all, sometimes they keep things close to the vest — but Deadline's sources tell them that she will play Mantis in Guardians of the Galaxy Vol. 2.
If this does in fact turn out to be true, it won't come as a huge shock. Earlier this year, there were rumors that the Marvel Cinematic Universe was going to introduce Mantis. Specifically, that report indicated that she was going to show up in Avengers: Age of Ultron and that she would serve as a kind of bridge to ultimately connect Earth's Mightiest Heroes with the more celestial crew from Guardians of the Galaxy.
If you saw Age of Ultron, you know that obviously didn't pan out, but she could very well show up in Guardians 2 and still serve a similar role. First appearing in Avengers comics in 1973, not only does Mantis have ties to the Kree, the warlike race of Ronan the Accuser from the first Guardians, she has connections to both Vision and Scarlet Witch, who arrived on the scene in Age of Ultron. Such a meeting could easily happen, especially if those rumors about Vision heading into space after Captain America: Civil War turn out to be legit.
Not only does it make sense that Mantis could appear in Guardians 2, Pom Klementieff also fits the characteristics of the role. The initial reports said that Marvel was specifically looking to cast an Asian woman — Klementieff is half Korean — and, in the comics, Mantis is half-Vietnamese. The character is also a proficient martial artist, and as the 29-year-old actress, who is most known for her role in Spike Lee's American remake of Oldboy (which stars fellow MCU members Josh Brolin, who plays Thanos, and Elizabeth Olsen, who plays Scarlet Witch), has a background in both taekwondo and boxing. Those skills could certainly come in handy.
We'll have to wait and see how this pans out, but it is definitely plausible that Pom Klementieff may be playing Mantis.
In addition to this new cast member, all of the primary players are back for Guardians of the Galaxy Vol. 2. Writer and director James Gunn will once again steer the ship, and the rest of the band of barely legal space rogues is also back, including Chris Pratt (Star-Lord/Peter Quill), Zoe Saldana (Gamora), Dave Bautista (Drax the Destroyer), Bradley Cooper (Rocket Raccoon), and Vin Diesel (Groot).
Guardians of the Galaxy Vol. 2 is scheduled for a May 5, 2017 release.
Your Daily Blend of Entertainment News
Thank you for signing up to CinemaBlend. You will receive a verification email shortly.
There was a problem. Please refresh the page and try again.