How Rachel McAdams Will Factor Into Doctor Strange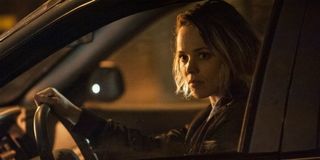 We got a glimpse of the worlds beyond at the end of Ant-Man when Paul Rudd's Scott Lang entered that trippy Quantum Realm. Doctor Strange will broaden those horizons even further by diving deeper into the concept of parallel dimensions, but the Marvel hero won't be our only lens into these uncharted terrains.
According to Marvel Studios President Kevin Feige, who spoke recently with IGN about Marvel's upcoming Phase Three film slate, Rachel McAdams' Doctor Strange character plays an important part in this regard. He teased,
It's unclear which role McAdams will be playing in Doctor Strange, and while we have some ideas, she's not telling. However, she confirmed that she will be in the film after weeks of rumors, and described the story to The Wrap during the Toronto International Film Festival as "psychedelic." It seems likely that she'll be playing someone outside of the mystical space. We already have Benedict Cumberbatch as Stephen Strange, aka the Sorcerer Supreme, and the transformative Tilda Swinton as his magical mentor The Ancient One, so it would seem we'd need a character looking in from the outside to better situate a mainstream Marvel audience with this new vocabulary. That said, Marvel hasn't released any information on which character she'll portray.
Feige also confirmed to IGN that Doctor Strange will be an origin story. For the uninitiated, Stephen Strange is a renowned but egotistical neurosurgeon whose career goes down the tubes after a car accident leaves his hands with seemingly permanent damage. After searching every avenue to remedy his situation, he travels to Tibet in search of a mystical cure, but instead he discovers The Ancient One, an extremely powerful sorcerer who trains Strange in the mystics arts, transforming him into Earth's defender against supernatural forces. Feige addressed the casting of Swinton in this role by praising her ability to be ambiguous in terms of gender and that her performance as The Ancient One will play up this fact.
Elsewhere, 12 Years A Slave actor Chiwetel Ejiofor will also star, reportedly as Baron Mordo, another pupil of The Ancient One and Strange's future nemesis. Mads Mikkelson of Star Wars: Rogue One and NBC's canceled Hannibal series is reportedly attached to the film, though the actor recently addressed the topic by saying he's waiting for Marvel's phone call.
Doctor Strange is directed by Scott Derrickson (Sinister, Deliver Us From Evil), and is set to start filming this November. The film currently is scheduled for a theatrical release on November 4, 2016.
Your Daily Blend of Entertainment News
Thank you for signing up to CinemaBlend. You will receive a verification email shortly.
There was a problem. Please refresh the page and try again.