This Is How Spider-Man Fans Are Trying To Keep Andrew Garfield In The Role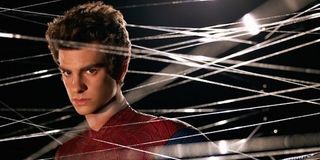 One consequence of the Sony email hack has been the revelations of about the Spider-Man film franchise, specifically that at one point the studio considered creating a deal with Marvel Studios that allowed them to share the Wall-Crawler. Then last week there were reports that if a deal was reached that allowed Marvel to obtain creative control of Spider-Man, the Sony Amazing Spider-Man films would be labeled as non-canon, and more importantly, Andrew Garfield would be let go from the role. This scenario has angered enough fans that they're banding together on the Internet to show their support for Garfield in one of the most organized ways possible: a petition.
A petition has been created on Change.org to keep Andrew Garfield playing Spider-Man for future movies. The description states that the character has been handled "incorrectly by the greedy idiots at Sony," and that it would be a shame to replace him after two movies, especially since the actor has expressed interest in starring in an Avengers movie in the past. At the time of this writing, the petition had over 7,600 supporters, meaning it needs almost 2,400 more signatures to reach its goal of 10,000. Although Change.org is primarily used for social movements, the website has also become a popular venue for fans to bring about change in movies and TV shows, most recently to bring back a deceased character on The Walking Dead.
While the Amazing Spider-Man movies have their share of problems, Andrew Garfield is not one of them. His performance as Spider-Man has been repeatedly praised by many critics and fans. That said, if Marvel does get control of Spider-Man back, the chances of them keeping Garfield are slim. They would want to start fresh, and having him stay in the role only serves as a reminder of the past. They'll just hire a new actor to keep things simple for the new continuity. Is this unfair to Garfield? Perhaps, but unfortunately that may be what it takes to revitalize the character's film exploits.
Regardless, no decision has been reached yet regarding a possible future in the MCU for Spider-Man. Next month Sony executives are meeting for a "Spider-summit" to determine what the next step is for the film franchise. They might decide to stay the course and continue making the films on their own or they might decide to negotiate a deal with Marvel, although don't expect to see him anytime before 2017. These types of petitions rarely ever sway the decisions of the creative minds, so it's doubtful it will be any different for Marvel, but the fan support for Garfield is admirable.
Connoisseur of Marvel, DC, Star Wars, John Wick, MonsterVerse and Doctor Who lore. He's aware he looks like Harry Potter and Clark Kent.