Sigourney Weaver Blames Alien Vs. Predator For Basically Ruining The Franchise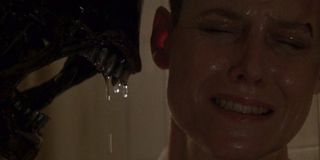 Ridley Scott's 1979 sci-fi film Alien is one of the scariest movies ever made. However, the most recent installments of the franchise, Alien vs. Predator and Aliens vs. Predator: Requiem, didn't exactly set the world on fire. One individual they failed to impress is series star Sigourney Weaver, who is not a fan. In fact, AvP is one of the reasons her character, Ellen Ripley, one of cinema's greatest badasses, dies in Alien 3.
Talking to Radio Times at the London Film and Comic Con, she was asked whether or not it was her decision that Ripley was killed off in Alien 3, to which she replied:
Though Alien vs. Predator didn't actually materialize until 2004 (Alien 3 showed up in 1992), Paul W.S. Anderson, the driving force behind the Resident Evil movies, and company failed to excite fans in the way they hoped pitting a Xenomorph against a Predator would. For that matter, the follow up, 2007's Aliens vs. Predator: Requiem, didn't do much to incite fervor or engage audiences either.
In fact, according to Weaver, an impending AvP is a big reason why Ridley Scott didn't return to direct Alien 3. That job ultimately went to David Fincher, who made his feature film debut on the picture. Weaver said that Scott wanted to make another Alien sequel and was on board until he found out about Fox's plans and bailed. He did eventually return to the world he first visited in 1979, with 2012's sort-of prequel Prometheus, and while that film definitely has its supporters, the prospect of him helming Alien 3 is one of those what-if scenarios we'll mulling over for years and years.
While Weaver isn't particularly pumped about Alien vs. Predator, she is considerably more enthusiastic about the potential for Neill Blomkamp's (District 9) upcoming Alien movie. Talking to the Comic Con crowd, she said:
The two worked together on Blomkamp's last film, the robot drama Chappie. Though her return to her most famous role isn't official, it is definitely something that has been talked about, and if you've seen her discuss the possibility at all in interviews, you can tell how excited she is by the prospect. We're also rather excited by the idea of another Alien movie starring Sigourney Weaver.
Blomkamp started posting concept art for an Alien project he was tinkering with unofficially at the end of last year and there was such huge public response. Shortly after this, the studio gave him the go ahead to make a fifth Alien film (most people don't count the vs. movies). Though Chappie and his previous film, Elysium, failed to cause the same ruckus as District 9, the South African director has a gritty visual style that feels like a perfect fit for an Alien movie.
Your Daily Blend of Entertainment News
Thank you for signing up to CinemaBlend. You will receive a verification email shortly.
There was a problem. Please refresh the page and try again.