How Star Wars Made Sure Supreme Leader Snoke Was Larger Than Life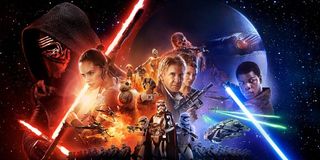 Captain Phasma, General Hux, and Kylo Ren are all clearly important antagonists in Star Wars: The Force Awakens, but none of them are the one truly in charge. We've know for a while that Andy Serkis' character, Supreme Leader Snoke, is the individual leading this villainous new campaign, but unlike most of the main players, he's been kept hidden from sight, though we've slowly learned more about him recently. Among the many details Serkis shared about the character last week was that he'll be quite large, and now we know how the crew accomplished creating his enormous size.
Reiterating previous statements about how he didn't know what Snoke would look like when he began shooting, Serkis told Empire how, during his scenes with his fellow baddie actors, he stood atop a gigantic podium to peer down at his "subordinates." Here's how Serkis explained the process:
Most of the villains in the Star Wars franchise have been human-sized, so to get such a gigantic villain is a big deal. Sorry, I couldn't help myself. Rather than being a physical threat, though, Snoke is said to be more of a mastermind hatching an intricate scheme, so it's unlikely he'll be directly involved in any fights during the movie. Regardless, it's good to hear they're making him look like someone you'd be freaked out by at first glance.
Serkis also mentioned that Snoke is "scarred and disfigured" (in other words, not a looker), but we shouldn't worry, as they also took care to make him sound intimidating as well. The actor said:
Like Luke Skywalker, Snoke has been largely absent from the marketing for Star Wars: The Force Awakens. The only hint of him we've gotten was his narration during the first trailer, that's his sinister voice talking about the awakening of the dark side and the light. Since then, we've learned that Snoke's figure wouldn't have been possible to create without CGI, so fans shouldn't expect an alien too humanoid-looking. With the weeks dwindling down until the movie's release, it's seems unlikely that Lucasfilm will pop him into a TV spot in the coming weeks, so you're sure to be surprised when you see him.
We'll have to wait until December 18 to see Snoke in all his glory on the big screen, but it's safe to say he'll tower over the competition in Star Wars: The Force Awakens. Once the movie hits theaters, hopefully then we'll have a better idea of what his role will be in the sequels going forward, if at all.
Connoisseur of Marvel, DC, Star Wars, John Wick, MonsterVerse and Doctor Who lore. He's aware he looks like Harry Potter and Clark Kent.
Your Daily Blend of Entertainment News
Thank you for signing up to CinemaBlend. You will receive a verification email shortly.
There was a problem. Please refresh the page and try again.