How The Old Star Wars Movies Will Affect The New Characters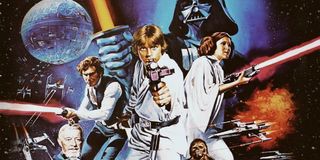 Those lucky enough to have a seat in Hall H were balling to see the cast and crew of Star Wars: The Force Awakens take the stage at Comic-Con 2015. Lucasfilm president Kathleen Kennedy praised the Comic-Con-ers of days past for building up buzz for the original films, and now years later, a new generation of movie lovers are doing the same. It's in this way that the original films have affected us, and, as it turns out, the actual characters in the new film.
Oscar Isaac, who plays X-Wing pilot Poe Dameron in The Force Awakens, came out on stage alongside John Boyega, Daisy Ridley, Adam Driver, Dohmnall Gleeson, Gwendoline Christie and the rest of the gang. While talking about the franchise's legacy, he said how the stories of the original trilogies have actually influenced the new characters.
Isaac went on to explain how characters like Dameron were probably alive, though albeit young, during the famous medal ceremony at the end of A New Hope. Dameron probably watched, he said, as Princess Leia bestowed honors on Luke Skywalker, Han Solo and Chewbacca and thought, I want to be there. I want to be that type of hero. In Dameron's specific case, that's likely true. During Star Wars Celebration earlier this year, Isaac described his character as the best pilot in the galaxy, seemingly following in the footsteps of Han Solo. In The Force Awakens, he pilots an X-Wing and works for "a certain princess." Perhaps the same could be true of Finn, played by John Boyega. We know he was a stormtrooper at one point or another, and he reportedly defects after realizing the horror of the resurrected Empire. It wouldn't be out of the realm of possibility to think he joined the ranks hoping to follow in the footsteps of those heroes who came before. Though, at this point, that's pure speculation.
Elsewhere in the Star Wars: The Force Awakens panel, director J.J. Abrams, Lucasfilm president Kathleen Kennedy and writer Lawrence Kasdan revealed a slew of practical effects used on the film's creatures, while the stars, including Carrie Fisher, Mark Hamill and Harrison Ford, showed off pics and details of their new characters. So far, we know that Finn (Boyega) is a stormtrooper on the run and he encounters a scavenger named Rey (Ridley) in the deserts of Jakku, and Dameron's mission leads him to the pair. On the villain side are Kylo Ren (Driver), General Hux (Gleeson) and Captain Phasma (Christie), all of varying degrees of crazy.
Star Wars: The Force Awakens hits theaters this December 18.
Your Daily Blend of Entertainment News